PokerStars has announced plans for the Latin American Poker Tour Season 8 Grand Final to merge with the Brazilian Series of Poker Millions in what promises to be the most earth shattering poker series in Latin American History.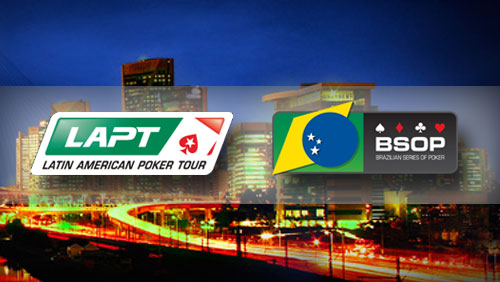 Zico might have been cool cos he curled free kicks into the top corner whilst scratching his cock. I didn't care about that old nonsense. He was cool because he was called Zico.
Brazil was the first Subbuteo team I bought and I polished Zico's spherical bottom with Pledge. I loved the languid couldn't give a fuck style of Socrates, and the veins popping out of the arms of Falcao were like tributaries running down a map of a whole new world for me. A world where to be Brazil meant being the Daddy.
The Brazilians nearly broke the Rio Mothership during Thiago Nishijima's World Series of Poker (WSOP) bracelet win, Ronaldo the Elder is a part of Team PokerStars, as is the little genius called Neymar Jr. If they keep going at this rate they will have to paint the spade yellow.
PokerStars have more news of a Brazilian flavor this week. The PokerStars.net Latin American Poker Tour (LAPT) will be collaborating with the Brazilian Series of Poker (BSOP) Millions for their Season 8 Finale.
The merging of the twin towers will feature 32 events across a nine day period: Nov 25 – Dec 3, with the R$10,000 LAPT Grand Final Main Event and the R$3,000 BSOP Millions event acting as cunnilingus and fellatio in a room full of kisses and cuddles.
Igor Federal, CEO of the BSOP is expecting the merger to produce a record number of players, after citing a '218% increase in tournament entries since last year'. PokerStars Team Pro, Andre Akkari, believes that with the added help of Neymar Jr. promoting poker as a sport throughout Latin America the 'competitiveness of the events will strengthen.'
Here is the LAPT Season 8 Saga thus far:
• Josh Kay defeated 532 entrants to win the $3,000 LAPT Bahamas Main Event for $367,928.
• Oscar Alache defeated 410 players to win the $2,500 LAPT Chile Main Event for $131,962.
• Shakeeb Kazemipur defeated 422 players to win the $2,500 LAPT Panama Main Event for $180,112.
Alache is also the defending LAPT Grand Final champion after beating 692 entrants in the $1,700 Main Event in Peru in Season 7 for $135,488.
LAPT Uruguay is the buffer between this piece of writing and the Grand Final. The Enjoy Conrad Resort & Casino, Punta del Este will host that event Sep 18-22.
Last year Wilson Calixto beat 2,749 entrants to win the $420k first prize in the BSOP Millions Main Event. It was the biggest event ever held in Latin America with more than 15,000 tournament entries and more than $6.6m handed out in prizes.
But that's nothing.
In 1983, Brazil beat Peru 17-14 in my own version of the Subbuteo World Cup and Zico scored 10 of them.
I can still smell the Pledge.
Mmm…Pledge.