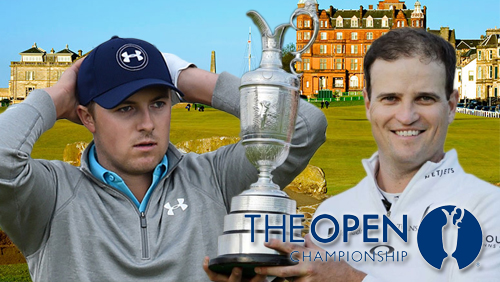 Zach Johnson has won the 144th British Open, capturing his second major title on Monday.
Johnson put on a world-class performance at St. Andrews' Old Course, shooting in a curling, testing birdie putt on the 72nd hole to get to 15-under-par and then played a 4-hole playoff defeating Louis Oosthuizen and Marc Leishman.
Leishman was defeated by three shot in the playoff while Oosthuizen, who won this tourney the last time it was at St. Andrews, missed a 9-foot birdie putt on the final playoff hole, which gave Johnson the victory. Johnson joins a group of five other golfers who won at Augusta and St. Andrew, including Nick Faldo, Sam Snead, Jack Nicklaus, Seve Ballesteros and Tiger Woods.
Johnson was thrilled by the accomplishment of winning the Open and the Claret Jug that comes with winning the tourney and said that it would replace his kids' sippy cups back home in Iowa.
"I'm at a loss for words. You don't like to see a tournament end on a miss and Louis is a champion and a friend. But I'm grateful and humbled. I'm thankful. … This is the birthplace of the game. That jug means so much," Johnson told ESPN.
The favorite to win Jordan Spieth was gracious in defeat congratulating Johnson in a tweet after giving him a hug on the course.
Spieth has quickly set a new goal after failing an attempt to win his third major of the year and stay on course for an unprecedented calendar grand slam at next month's PGA Championship. Spieth is the favorite to win the PGA Championship at 9/2, followed by Rory McIlroy at 6/1 followed by Dustin Johnson at 10/1 and Adam Scott at 16/1.
A victory at PGA Championship would make him the new world No. 1, replacing the injured McIlroy, as no one has ever swept the three American majors in the same year.
"I don't know how many guys have done three majors in a year. I'm sure there have only been a few. So that would be the next goal as far as the history goes. My sights are set on the PGA Championship, and from here I've got a couple weeks off now, and I'm going to go home and reflect on this," said Spieth. "It won't hurt too bad. It's not like I really lost it on the last hole, and 17 was brutally challenging. I just didn't hit a great putt there, and I just picked the wrong wedge out of the bag on 18."
The PGA Championship will take place from August 13–16 at Whistling Straits on the Straits Course in Kohler, Wisconsin.
Odds courtesy of Bodog
Comments