Liv Boeree will speak at the Effective Altruism Global 2015 conference in San Francisco, alongside luminaries such as Elon Musk, Nick Bostrom and Jacquelline Fuller.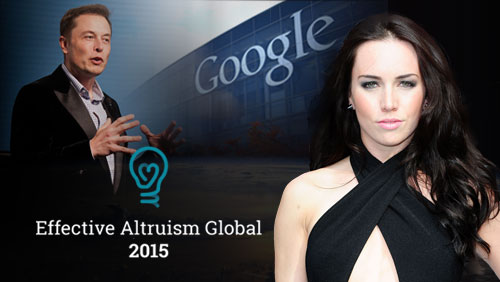 That's the name that spills out of the mouths of most poker players when I ask them to name the first person that comes to mind when they think of the word 'successful.'
Elon Musk.
I reckon he would be a great poker player.
One person who might get the opportunity to ask if Musk plays poker is Liv Boeree. The member of team PokerStars Pro, and co-founder of the non-profit organization Raising for Effective Giving (REG), will share the same stage as the great man July 31 – Aug 2 as part of the Effective Altruism Global 2015 conference due to take place at the Googleplex in San Francisco.
I am so unbelievably excited to be speaking at http://t.co/xkH6rsUnvN summit about @REGcharity Aug 1st at the GooglePlex, San Francisco!!!!

— Liv Boeree (@Liv_Boeree) July 16, 2015
Boeree will represent REG during a 'Talk Triplet' involving Spencer Greenberg (Rebellion Research) and Jeff Brown (Global Innovation Fund). The threesome will have 60-minutes to discuss Effective Altruism Entrepreneurship.
Other guest speakers include Director of Google, Jacquelline Fuller, Olivia Fox Cabane Author of the Charisma Myth, Will MacAskill Author of Doing Good Better, Rob Wilbin from the Centre for Effective Altruism, Ben Todd from 80,000 Hours and Nick Bostrom from the Future of Humanity Institute. Organizations such as GiveWell, Huffington Post, Global Innovation Fund and the Center for Applied Rationality will also participate.
Tickets for the Googleplex gig have sold out, but there are two more events with tickets for sale. The first will be held in Melbourne, Australia Aug 14-16, and the second in Oxford, England Aug 28-30.
Boeree's appearance at the Effective Altruism Global Summit 2015 is the latest in a series of high profile appearances of poker's finest within the Effective Altruism movement. Recently, Philipp Gruissem was invited to be a part of Peter Singer's latest book: The Most Good You Can Do after Gruissem's involvement in the Effective Altruism movement was highlighted in an interview with us at CalvinAyre.