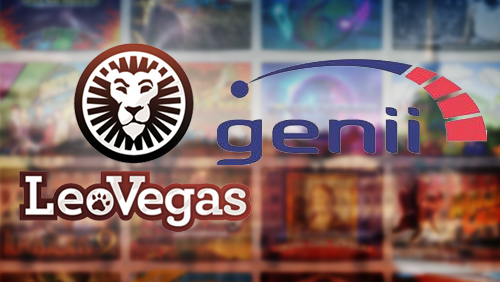 New touch technology now available exclusively at LeoVegas.com
2nd June 2015 – The world's leading mobile casino LeoVegas is proud to present a new and exclusive set of games taking the Touch functionality in mobile gaming to a whole new level.
Introducing Spin16 games has enabled LeoVegas to capitalise on the full area of touchscreen and swipe action, making the gaming experience more interactive and engaging than ever.
Players can now enjoy 16 different touchscreen ways to spin including spinning the reels down, right, up or left.
"For us, being the only gaming company to offer this technology represents a seal of quality," says Robin Ramm, Co-Founder of LeoVegas.com, and continues: "The partnership with Genii solidifies our commitment to delivering the best mobile gaming experience possible, whilst staying at the forefront of mobile gaming technology. We are excited to be first to provide a fully interactive mobile gaming experience for our customers."
The range of exclusive Spin 16 games can be found here.
For more information please contact:
Erica Larkins – [email protected]
About Genii
Genii is committed to delivering the most creative and innovative casino games to the iGaming industry. Combining cutting edge real-time technology with out the box thinking, Genii are adding a new dimension to player engagement and interaction. Licensed in multiple markets including UK and Malta, with vast array of languages and currencies, Genii can cater to any operator requirements.
About LeoVegas
LeoVegas is an online casino that provides world-class game entertainment and offers over 350+ games on mobile, tablet and your computer. LeoVegas is Europe's fastest and most user friendly mobile casino. LeoVegas offers a completely new standard for what you can (and should) expect from your mobile phone.
LeoVegas has won a number of awards including:
Winner of "Mobile Marketing Campaign" EGR Innovation Awards 2015
LeoVegas Winner "Grand Prize for Summit Superstar 2015" – GP Bullhound's European Unicorn Summit Awards
Winner of "Slot App of the Year" & "Slot Game App of the Year" – Gaming App Awards 2014
LeoVegas "Mobile Casino Product of the Year" – EGR Operator Awards 2014
LeoVegas winner "Innovation in Mobile and Tablet"- EGR Innovation Awards 2014
Power 50 – EGR Power 50 List of the most influential gaming operators ranked 29 – 2014
"LeoVegas is leading the way into the mobile future" – GIQ 2013, Gaming Intelligence Publication
LeoVegas Winner "Best Innovation in Casino" – EGR Innovation Awards 2013
LeoVegas Finalist "Best gaming operator of the year" ICE Totally Gaming Awards 2013
Power 50 – After less than 2 years of operations, LeoVegas was placed on the EGR Power 50 list of the most influential gaming operators
Comments