Lee Davy talks to the 2014 European Poker Award Media Person of the Year winner, Marc Convey, about his career, his longevity, and his opinion on the recent criticism of the World Series of Poker live updates.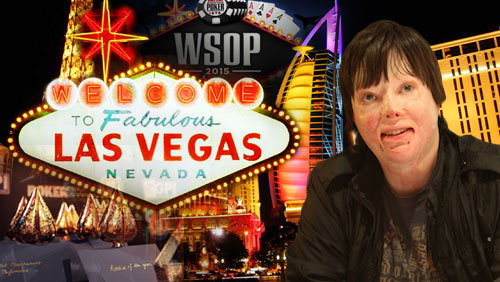 Marc Convey has worked in the poker industry for close to a decade. He is a much loved, and valued member of the community, and I caught up with him to talk about his career.
During the interview we touched upon his start in the industry, the respect he has for Stephen Bartley and Howard Swains, the internal conflict that arose when deciding between playing and writing, his European Poker Award for Media Person of the Year, and his views on the criticism of the live reporting team at the World Series of Poker (WSOP).
When did this all start for you?
"I was working for a homeless charity in London, and playing poker in my spare time, although to be fair poker was taking over my life. One of my best friends sat me down and told me that I was becoming boring, and that all I wanted to do was talk about poker. He was right. My girlfriend at the time wasn't keen on it either. She thought she was playing second fiddle to poker, and she was right.
"So I decided to try and find more balance in my life. I knew the poker industry was going somewhere so I decided to try and find a way to get employed within it. I had no idea what I was going to do. I played a lot at the Gutshot Club at the time, and they had an online site with a big editorial section. Stephen Bartley was the Assistant Editor at the time, and the Editor, David Lloyd, didn't want to travel so much – they were doing a lot of live updates at the time – and so they hired a few freelance writer's to help out so David could stay at home with his kids.
"I applied for the post and I was given a trial at EPT London the year Vicky Coren won it. They liked what I did, and took me on. It gave me the balance I needed. For the next 18-months I wrote for Gutshot and played part time. Then as the games got harder, and more opportunities started to arise in the writing business, that slowly became my profession. Now I only play for fun."
It must have been a tough decision to stop playing seriously?
"There was a period of a year that I really battled with whether I should play or write. I loved traveling the circuit and getting regular cheques, but I was never going to get a six figure cheque was I? But I was getting older, wiser and more mature. I understood that getting regular income, and not having to deal with the stress of the swings, was important. It was also important that I was reporting on tournaments at the very highest level. I got a real buzz out of that."
Was it important to diversify and work for numerous outlets back then?
"It wasn't an issue back then. There were more opportunities to work for different outlets. A lot of them don't exist anymore. You didn't feel like you needed to be with one of the big boys. These days there isn't many opportunities. If you want to work in this business, then you have to work at one of the bigger organizations otherwise you are left with nothing but scraps"
What advice would you give to that young Marc Convey covering the Vicky Coren win?
"Think more about the way you structure your posts in terms of live updates. Back then I just went with it. Writing smaller pieces of prose was a new concept. Twitter wasn't about back then. You needed to be more concise, but people weren't used to writing that way. I learned more when I was working with Howard Swains and Stephen Bartley. They helped me learn how to structure posts. I would also advise him to learn more about the game. Really study it so your point of view makes sense in the eyes of the players."
PokerNews allow live reporters a more free flowing style of reporting, whilst the WPT are more strict about sticking with the facts. Which do you prefer?
"When I was younger I would offer more opinion in my pieces. The older, and better I have gotten, the more I allow what I see to speak for itself. I have gotten more confident as a writer to do that without adding my opinion. I like the facts to speak for themselves. I don't think it should be black and white. You should be able to create discussion, but leave it open for that discussion to breathe. Allow players the ability to create their own opinion thanks to the way you have structured your piece. You don't have to impose your opinion to do that.
"I like giving more background to a post. You have to stay away from criticizing players. Provide enough information for people to make their own mind up whether they played it well. I don't like posts that jump straight into the action. I like to put a little hook into the post at the start. I often read posts where most of the main information is at the end of the post. People don't have the concentration to read long posts these days. Get the hook in first, so the reader has a reason to keep on reading."
Have you ever upset anyone with your writing?
"Yeah, a few times, but a lot of those incidents were back in the days when we were really busy at events. We would have tournament reporters working on the floor and passing us notes, so we could type them up. Sometimes that info would be wrong and your name would be on the post. I remember Barny Boatman criticizing a post once, and I knew it was directed at me. I spoke to him and asked him why he didn't talk to me directly about it? I get some criticism doing the commentary for EPT Live, and some trolls, but that's to be expected. In general I think I have done pretty well in recent years."
How did you get into commentary?
"I did a few guest appearances whilst on the EPT – an hour here and an hour there. They must have liked what I did. I remember they needed someone to fill in on the EPT San Remo, and Campione stops, and I helped out. I also got succonded to do some work on the live stream at the EPT Grand Final in Monte Carlo one year. It snowballed from there really."
Live reporting, feature pieces, interviews and commentary – what do you prefer and why?
"I like doing them all. Each one keeps the other one fresh. The commentary is the work with the most pressure. The attendance figures are extraordinary, but it's great fun. But you lose the camaraderie and the banter from being on the floor and in the press room. I love the banter, it's what gets me through the day. I love doing the live reporting on the smaller tours like the Eureka. It reminds me of my early days on the EPT."
Why have you been so successful?
"A lot of it is about being in the right place at the right time. I have been very fortunate. There is no way that I am the best writer in the industry, but I had people in positions of power who gave me work at the right times. I think I'm fun to work with, I am a positive guy, have high energy levels, and I always try to carry myself with dignity. Too many people have left a company and not acted with dignity. I have never had bad blood when I have left a company. I have always been able to go back and get work. I am just lucky that people want to employ me."
What was it like to win the EPA Media Person of the Year Award?
"It was surreal. The competition was tough. I was up against yourself, Remko and Giovanni. I didn't think I cared about it until I won it. Perhaps, that's a protection mechanism, because we were both nominated the year before and I didn't win. I was honored to be the first winner of the Media Person of the Year award. I know it's partly a popularity contest –  I think I did better work the year before – but I was delighted to win it."
The WSOP Live Updates have had some criticism, what's your view?
"Some of the criticism is unfair. Overall, they do a fantastic job. The criticism of the live reporting is unfair. People want to see it being a free market, but no website can afford to do that without the backing of the WSOP. It would cost a fortune. The players need to realize that it's an impossible job to provide quality updates in fields this size. Plus it's free. If they would like to pay for a high quality service, then perhaps the budget could be created and more people employed, but at the moment everything they get is free of charge, so the criticism should be minimal."