Lee Davy hands you a review of the 27th day of the 46th Annual World Series of Poker, including news of a victory for Travis Baker in the Seniors Championships, Barny Boatman leading the final 24 players in the Extended Play event, and Scott Seiver looking to go wire-to-wire in the Poker Players Championship.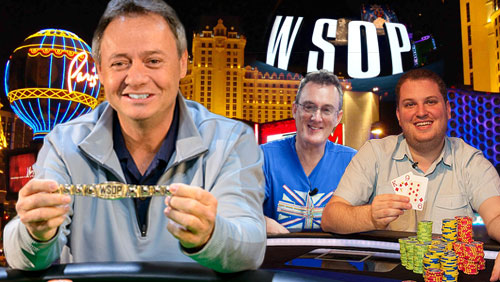 The World Series of Poker (WSOP) can be a dream, and it can be a nightmare. It can produced tears of joy, and tears of absolute misery. It can energize you, and it can turn you into a George Romero zombie. The contrast is stark; it's tough; it's poker.
Take Tony Cousineau for example. He first cashed in the WSOP in 1999. 71 cashes later and he still doesn't know what it feels like to have that piece of gold draped around his wrist. The same is true of Tom McCormick. He first cashed in 1992, and 50 WSOP cashes later, still has not won a bracelet.
Then you have people like Travis Baker. The 50-year old construction worker, from Oklahoma, first entered a WSOP event in 2007. He came nowhere. Eight years later, he decided to give it another shot. He went on to defeat 4,193 players to win the $613,466 first prize, the Golden Eagle trophy, and of course the WSOP bracelet.
"I have no idea what I will do with the money." Baker told the WSOP after his win.
Baker got into poker after Chris Moneymaker injected hope into the veins of everyday Americans back in 2003. Since then he has played most of his poker in his home state. His largest win, before this, was $9,215 for finishing second in a 2008 Wild Wild West tournament in Tulsa.
The final table was a quick one. The five handed action lasted barely 30-minutes. Baker defeated Carl Torelli in heads up action. Torelli has two cashes on his Hendon Mob resume: a 14th place finish in this event last year, and now this. It seems this competition was ready made for him.
Asked how Baker would celebrate his victory, he said: "I am an old man now. I think I will take a nap."
Final Table Results
1st. Travis Baker – $613,466
2nd. Carl Torelli – $378,766
3rd. Jim Hopperstead – $274,989
4th. Michael Smith – $202,157
5th. Justin Tucker – $149,929
6th. Lee Budin – $112,154
7th. Stephen Nussrallah – $84,644
8th. Steve Gee – $64,417
9th. Shane Goldsmith – $49,435
Scott Seiver Leads Event #44: The Poker Players Championship
Can Scott Seiver go wire-to-wire and win the Poker Players Championship? There is a long way to go, but he remains the chip leader at the end of Day 2, as he was at the end of Day 1.
47 players remain from the 84 that entered, and 12 will receive a minimum of $87,010. There is $1.2m up top. Former champions Matthew Ashton (607,900), Michael Mizrachi (361,500) and David Bach (258,400) are still in contention; last years winner John Hennigan busted on Day 2.
Top Five Chip Counts
1st. Scott Seiver – 688,500
2nd. Abe Mosseri – 657,400
3rd. Matthew Ashton – 607,900
4th. Dee Tiller – 602,400
5th. Mike Gorodinsky – 488,000
Barny Boatman Leads Event #42 $1,500 Extended Play No-Limit Hold'em
It may have taken Barny Boatman 15-years to win his first bracelet, but now he knows the way. That will hold him in good stead as he leads the final 26 players going into Day 4 in Event #42 $1,500 Extended Play No-Limit Hold'em.
It won't be easy for the former Hendon Mobster. Boatman still has the likes of Patrick Leonard (581,000), Justin Zaki (381,000), Konstantin Puchkov (367,000) and Yevgeniy Timoshenko (226,000) to get through.
Jonathan Little busted in 28th place, and Antonio Esfandiari likewise in 40th place.
Top Five Chip Counts
1st. Barny Boatman – 1,152,000
2nd. Luis Duarte – 1,079,000
3rd. Artem Metalidi – 1,056,000
4th. Yehoram Houri – 895,000
5th. Anthony Diotte – 817,000
Wayne Knyal Leads Event #43: $1,000 Super Seniors No-Limit Hold'em
25 players remain from the 1,533 that started Event #43: $1,000 Super Seniors No-Limit Hold'em, and Wayne Knyal holds the lead in that one. Jack Effel kindly changing the rules to allow the super seniors to take a bathroom break at the end of every level. It comes to us all eventually.
Barry Shulman cashed in 31st place, but Dan Harrington and Pierre Neuville didn't quite make it. There is $262,220 reserved for the winner, and the remaining 25 players are guaranteed $7,671.
Top Five Chip Counts
1st. Wayne Knyal – 779,000
2nd. Jon Andlovec – 652,000
3rd. Charles Havens – 644,000
4th. Mark Schwartz – 457,000
5th. Paul Keller – 445,000
Brayden Fritzhall Leads Event #45: $1,500 No-Limit Hold'em
The 1,655 players that entered event #45: $1,500 No-Limit Hold'em represented a 4% increase in field size year-on-year. Brayden Fritzhall leads the final 260 players; 171 will get paid.
Top Five Chip Counts
1st. Brayden Fritzhall – 194,700
2nd. Justin Kindred – 183,000
3rd. Jorden Fox – 147,600
4th. Eyal Revah – 146,800
5th. David Jackson 141,900
Other notables with chips include Andrey Pateychuk (128,800), Eric Baldwin (105,900) and Barry Hutter (93,800)
Arseniy Makhaev Leads Event #46: $3,000 Pot-Limit Omaha 6-Handed
Event #46: $3,000 Pot-Limit Omaha 6-Handed is a new event for the WSOP. 682 players entered, and 154 remain at the end of the first day of action. Here are the top five chip counts.
Top Five Chip Counts
1st. Arseniy Makhaev – 213,700
2nd. Bjorn Wiesler – 185,700
3rd. Ilya Krupin – 183,500
4th. Jeffrey Gibralter – 168,600
5th. Ashton Griffin – 168,300
Other notables with chips include Erick Lindgren (150,700), Joe Ebanks (135,600) and Mohsin Charania (112,500).
Comments