Lee Davy sits down with Dusk till Dawn Club Director, Simon Trumper, to talk about his campaign to get the recently deceased Dave 'Devilfish' Ulliott into the 2015 Poker Hall of Fame.
A few months ago I was playing in a card room in Dublin. As I folded my big blind I looked at the walls surrounding me. They were covered with photos of some of the games legends: Doyle Brunson, Phil Hellmuth and Simon Trumper.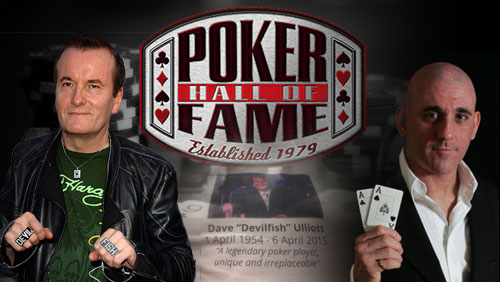 Dusk till Dawn's Club Director may not be the type of name you would flick in with the likes of Brunson and Hellmuth, but the fact that his photo was up there said two things to me: either he was remembered as one of the pioneers of our game, or they simply ran out of photos. I like to think it was the former.
There was another British star on that wall. His name was Dave 'Devilfish' Ulliott. The World Series of Poker (WSOP) and World Poker Tour (WPT) winner was great friends with Trumper. And so it was great to see his old pal campaigning for Devilfish to be inducted into the 2015 Poker Hall of Fame, by wearing a t-shirt that said:
"Dave "Devilfish" Ulliott 1 April 1954 – 6 April 2015: A legendary poker player, unique and irreplaceable."
I caught up with Trumper during a break in the $1,500 Extended Levels event, and this is what he had to say.
Where did the idea come from to push for Dave to be inducted into the Poker Hall of Fame?
"The week of his funeral was the week of the UKIPT, and normally he would have been at the club to play in the event. I took the picture, put the words underneath and put it on the screen to conduct a one minute silence. When I knew I was coming out here, I wanted to make sure he wasn't forgotten. So I got the t-shirts made. It was Warren Lush who first mentioned how wonderful it would be for Dave to get into the Poker Hall of Fame. I thought, if we all wore t-shirts, every time we get interviewed, we can talk about how great he was for the game, and how we would like to see him nominated for the Poker Hall of Fame."
It will be tough though. There has never been a European inducted into the Poker Hall of Fame, and Thor Hansen, who has been diagnosed with terminal cancer, has been short listed several times without being inducted. I guess sentimentality isn't worth much to the voters.
"I know how tough it will be but Dave ticks every single one of those boxes. The Poker Hall of Fame website states that nominees need to be people who have made a difference, and he made a difference. Late Night Poker was the first televised event to use hole cameras, and when he won that tournament it was the best thing that could have happened to poker. Had anyone else won that event, poker would not have taken off like it did. I have known him for 19-years and I don't think there is anyone like him. He was so cool with his shades and suits. His one liners were amazing. He was truly an unforgettable character."
You were also a character back in those days, what was it like for you when you won Late Night Poker?
"It was strange. After I won Series 2 it was quite bizarre. Every time I went into any card room in the country people would be nudging each other and saying: 'Look who it is.' When Phil Hellmuth plays poker in America, a lot of the players are in awe of him, and the number of walks he gets is ridiculous. It was the same for me in the UK at that time. I only had to breathe on the pot and people would fold.
"One of my best memories of Late Night Poker was playing in a heat with Devilfish, Peter Costa, and John Duthie. Three former Late Night Poker champions and a Poker Million winner. It was a stellar field and I was four betting with jack-three off suit. James Akenhead was doing the commentary and I remember him saying that it was great to see that I could still play. I don't play that often, but when I do I enjoy it."
Your role as WPT live stream commentator means you are privy to the hole cards at all the non-American final tables. Just how different is the game today compared with back then?
"It's totally changed since I started 20-years ago. It started to change dramatically when the aggressive Scandinavians ramped it up, but I always used to play like that anyway. We just didn't have fancy names for the things I used to do. The quality of the play today is outstanding though."
Talk about the perks you had circa that Late Night Poker win?
"I used to get comped in hotels a lot. I went to Australia with the Hendon Mob and they would comp me. Obtaining a sponsorship deal with UK Betting was the biggest thing to happen to me. An American guy called Eric Semel owned it. I put shares up for the Poker Million on Hendon Mob and he took 10%. I had never heard of the guy. I busted the tournament, but a few months later I got an e-mail from him asking to meet me.
"I went to meet him in London and he asked me to write for UK Betting. I told him I couldn't write for him unless I was playing. He asked me to figure out a package. I went away, and came back and said £50,000 –  he said ok. Apart from Hendon Mob I was the only player in the UK to get a sponsorship deal.
"A few months later and I hadn't had a result. Eric called and said I needed to get one otherwise the company couldn't continue backing me. Then I went and won the Pot Limit Omaha (PLO) Championships in Amsterdam, and the next year he gave me £150,000. I had a fantastic two years with them. The following year I played the inaugural $10k PLO Championships at the WSOP and I ended up fifth. Rob Yong was railing me. After the tournament he asked me to help him start a card room in Nottingham. I thought it would fill up some of my time. Nine years later and I'm still there."
Please head to the WSOP.com website and nominate Dave 'Devilfish' Ulliott for the 2015 Poker Hall of Fame.