The Godfather of poker, Doyle Brunson, has suggested on twitter that Dave 'Devilfish' Ulliott should be inducted into the Poker Hall of Fame, after news spread, via social media circles, that Devilfish was battling cancer.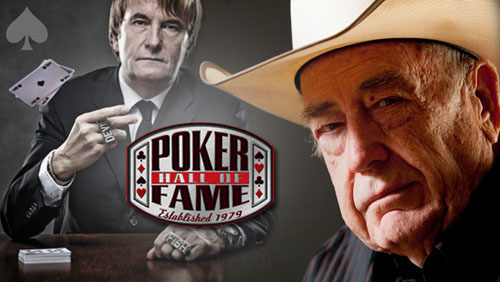 Dave 'Devilfish' Ulliott is one of the reasons that I got involved in poker, and am doing what I do today.
I won't be alone.
Each story will be a little different, but they will all share a theme.
Influence.
He was the star of Late Night Poker. The show that was responsible for so many British poker players being where they are today. His straightforward unfiltered talk wouldn't have made Devilfish everybody's cup of tea. But his influence on our game is undeniable.
Social media was on fire this weekend after news spread that Devilfish was battling cancer. Close friend, Rob Yong, traveled north to visit him and came back with news that 'he is touched by all the wishes of support from everyone.'
True to form, Devilfish entertained Yong on his guitar until 5am.
Tributes and well wishes have flooded in from all over the world. One of the most notable ones came from the 10-time World Series of Poker (WSOP) champion, and Poker Hall of Famer, Doyle Brunson.
If Devilfish has bad health problems, maybe we should try to get him in the Poker Hall Of Fame now.@devilfish2011

— Doyle Brunson (@TexDolly) March 30, 2015
Brunson has also undergone recent cancer scares himself, and will understand what Devilfish is going through. Reading through the stream of comments that followed, not one person disagreed with him.
The news comes a month after capital investor Jeff Williams announced plans to re-launch Devilfish Poker, with the man himself a big part of that uprising.
Our thoughts, and prayers go out to Devilfish and his family at this tough time.