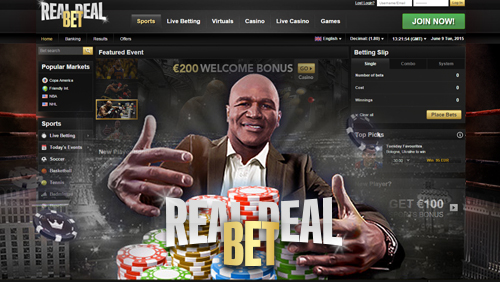 Evander "the Real Deal" Holyfield, 5-time World Heavyweight Boxing Champion is very excited to be launching RealDealBet.com globally with the newest and most complete online sports betting and casino experience available.  RealDealBet.com was designed for both professional and recreational players across the EU and markets around the world.
RealDealBet.com will feature an incredibly simple, highly intuitive interface offering players rapid access to a fantastic array of betting options, using SBTech's award-winning egaming platform. Over 60,000 events a month will be covered across more than 30 sports, including over 150 professional soccer leagues around the world. The site will feature 1.000 Live Bet types available on more than 18,000 events every month, and plenty of unique Live Bet opportunities. Players will be drawn in by RealDealBet.com's unbeatable online offering, not the least of which, offers competitive odds, quick payouts, large bonuses (such as 100% up to $100 on sports events and 200% up to $200 on casino games), and a truly broad and explosive array of betting options.
The cutting-edge casino will feature all the hottest new releases from industry leaders such as Microgaming, Betsoft and NetEnt. In addition, there will be over 1,000 popular titles from classic card and table game favourites, including Live Dealer Blackjack, Roulette and Baccarat, to the latest jackpot, Video and 3D slots.
The entire RealDealBet.com offering will be available via any mobile device using the latest and greatest technology in touch screen applications, SBTech Touch.  This exciting new technology provides gamers with the most exciting, responsive egaming experience available anywhere in the gaming world.
And of course, the Champ will be there every step of the way. Players will feel like Evander's fighting alongside them in the ring, whether that's assisting the newbies or providing professional experience to the more serious players.
Evander says, "RealDealBet.com will be 'The Real Deal' of sports betting. We're going to pack a powerful punch and knock the competition sideways. Expect an unbeatable combination of competitive odds, quick payouts and a barrage of bonuses. It's going to be the sports betting site of champions. We chose SBTech for their unique online and mobile offering and their revolutionary live betting platform."