Bwin.party has announced plans to close their WPTPoker skin on June 3 citing plans to focus their online poker efforts on the partypoker and bwin brands.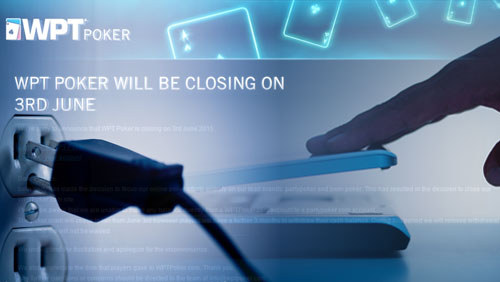 Players spending their time on WPTPoker.com will have to find a new home. Their cyber doors will shut on June 3, and they will not reopen. The online poker room opened on the partypoker network in 2009, after party acquired the World Poker Tour (WPT) from WPTE. Whilst it never set the world alight, it would have been home to a lot of people.
A letter sent to players explaining the reason for closure cited bwin.party's desire to concentrate all of their efforts on their two leading brands: partypoker and bwin poker. The content of the letter can be read below in full:
Dear Players,
Bwin.party has made the decision to focus our online poker efforts entirely on our lead brands: partypoker and bwin poker. This has resulted in the decision to close our WPTPoker.com site.
Please be aware that we are unable to move any balance directly from a WPTPoker.com account to a partypoker.com account.
The poker room will cease to run from June 3rd however players will have a further 3 months to withdraw their cash balance. During this period we will remove withdrawal limits. The fee will not be waived.
We understand the frustration and apologize for the inconvenience.
We also appreciate the time that players gave to WPTPoker.com. Thank you.
Players will not be allowed to transfer their funds to their partypoker account, players will have three months grace to withdraw their funds, and even if you have been hibernating for longer you can still withdraw your monies albeit through manual request to WPTPoker. Tournament dollars and tickets will be refunded, and any live event packages will still be honored.
It's believed that the sale is connected with the impending sale of bwin.party. Last week saw 888 Holdings and a joint bid by Amaya Gaming Inc./GVC Holdings both make a move to acquire the largest online gambling outfit in the world.
888 Holdings have a relationship with the World Series of Poker (WSOP), and Amaya Gaming likewise with the European Poker Tour (EPT), both rival brands of the WPT.