G2E Asia, an expo coined as "The Premier Event for the Asian Gaming-Entertainment Industry", kicked off today at the Venetian in Macau. This year the organizers have reported 180 exhibitors on the expo floor, 8,500 square meters of exhibit space and an attendance of 9,000 expected, making G2E Asia 2015 the largest one in every respect since its inception.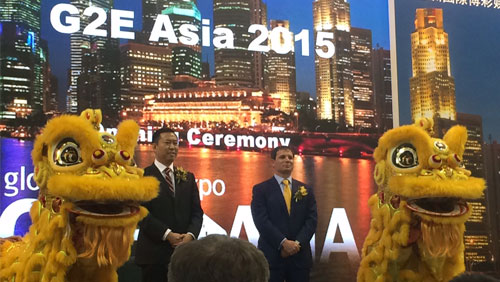 Delegates agreed this G2E Asia feels busier than others in the past, a sign the gambling market in Macau continues to prosper despite the disappointing revenues coming from the gambling mecca in 2015.
Reed Exhibitions Greater China's President, Hu Wei, delivered a speech during today's Opening Ceremony confirming the conference will be addressing ways Macau can tap further into the Chinese middle class and continue to offer more entertainment options, two ways to boost revenues for 2016.
Wei illustrated the impressive growth of G2E Asia when he shared the attendance was 3,000 back when the event debuted nine years ago and today its grown over twice its size.
New this year to G2E Asia is the All Asia Dealers Championship (AADC), a match-making G2E app connecting hundred of visitors and a new pavilion for nightlife and entertainment, all features Wei covered in his speech.
Joining Wei on stage shortly thereafter was AGA President Geoff Freeman who also delivered a welcome address, both later joined by representative from other local government and business organizations, all participating in the ribbon cutting and traditional Chinese Dragon ceremony.
Walking around the G2E Asia expo floor is a similar experience to what you would see at G2E in Las Vegas, the usual booths with sexy models and other gimmicks, plenty of slot machines and other technological innovations, but for sure presence of live dealer and baccarat is more dominant. We'll bring you more from the conference floor on day two and three, so stay tuned for that.
Over at today's conferences, the "Chinese Tourism On The Rise" session featured Aaron Fischer of CLSA and Glenn McCartney of the University of Macau, two experts on how gambling can help attract the masses from China.
Fischer started off by presenting some data on Chinese tourist numbers, such as the forecasted growth from 98 million in 2013 to 200 million by 2020, a number that would mean double Germany's projected tourist numbers and triple America's projected numbers in 2020.
"If you're in the tourist industry the focus should be on Chinese tourists and how you are going to attract them", Fischer said.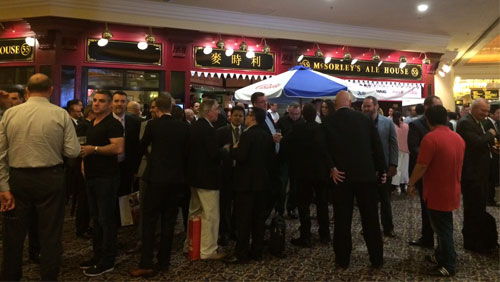 The role of social media and its impact on travel destination choices was discussed, with Fischer pointing out how the instant sharing of pictures across social media platforms has influenced travellers on where they want to go. McCartney added the Chinese are big into social media and mobile technology, therefore gaming properties need to come up with ways on how to tap into this.
Both speakers agree Macau will become a major beneficiary of the rise in Chinese tourism as the island's penetration of China is low at the moment and there is still a lot of room to grow. The Hong Kong-Macau-Zhuhai bridge, the second ferry terminal and light rail system are all finally making some movement and should help encourage more travel from China.
Another market of interest at G2E Asia is the Philippines with their recent launch of Entertainment City in Manila. Today's "Philippines: Development Strategies Pay Off" session featured Solaire President Thomas Arasi and Tiger Resorts EVP Matt Hurst, both senior leaders in the Manila Bay area.
Arasi said there are several things coming together in the Philippines- a strong geographical location in comparison to the rest of Asia, a reasonable tax structure, Filipino hospitality (the best in the world) and no labor shortage. "[The Philippines] is a great place to be in the integrated resort business", he said.
When it comes to what markets to focus on specifically from within the Philippines, Hurst revealed his organization is watching what's happening with the City of Dreams and that the soon-to-be-built skyway will help grow the domestic market. He believes there is growth left in the domestic market but said Tiger Resorts will have to look internationally as the opportunities are larger.
Junkets were also discussed and Hurst explained the use of junkets is still fairly small in the Philippines and the practice is just "kicking off". "I don't think it will ever match Macau, it's a different environment, a different proposition certainly, but there is a lot of room for growth", said Hurst.
Moving on to the more social side of things, McSorley's Ale House, the sole Irish bar in the Venetian, served as the post-conference hot spot tonight and will continue to do so for the rest of the week. A big thanks to Every Matrix who have kindly sponsored the 4-6pm happy hour at our very own watering hole.