Adrian Mateos is the European Poker Tour Grand Final winner after beating Muyedine Fares, in heads-up action, to take the first prize of €1,082,000 in Monte Carlo.
Adrian Mateos has won the Season 11 European Poker Tour (EPT) Grand Final in Monte Carlo. He is the first Spaniard to win a EPT Main Event title, and one of the youngest players in history to pocket two seven figure scores, after his €1,082,000 pay day.
Mateos topped a field of 564 entrants in one of the toughest tournaments in the world. Expectedly, the final table contained a few land mines. The loudest potential bang amongst them was Ole Schemion. The young German reacting brilliantly, after being deposed at the top of the Global Poker Index (GPI) world rankings, finishing sixth after another epic run.
PokerStars Team Pro, Johnny Lodden, was the other big name to make the final. It was the Norwegian's third EPT Main Event final table, and the second time he had visited this particular one, after coming third in 2013 (probably the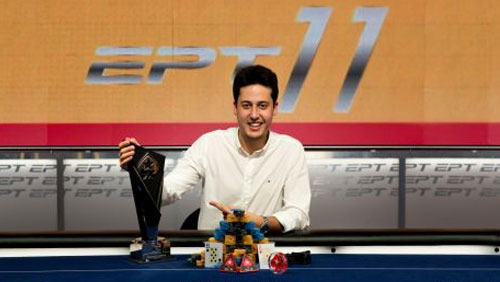 greatest final table in recent living memory). It was another close shave. There's still no cigar – Lodden finishing in fourth for €379,000.
But this was all about Mateos.
It's little wonder his peers call him The Beast.
He started playing poker when he was 16, immigrated to London when he was 18, and hasn't stopped shipping the green since. All $3.4 m of it. Talk about an inspired decision. The former tennis protégé still can't compete in the WSOP because he isn't old enough to gamble in the state of Nevada. I'm not sure if he even shaves?
His EPT victory, now sits on his resume alongside his 2013 World Series of Poker Europe (WSOPE) Main Event victory. A World Poker Tour (WPT) title, arguably the easiest of the three to win, is the only thing standing in his way of becoming the youngest Triple Crown winner of all time.
Who would bet against him?
Not me.
Final Table Results
1st. Adrian Mateos – €1,082,000
2nd. Muyedine Fares – €679,000
3rd. Hady El Asmar – €486,000
4th. Johnny Lodden – €379,000
5th. Jose Carlos Garcia – €297,250
6th. Ole Schemion – €233,500
7th. Markus Ross – €74,300
8th. Koichi Nozaki – €120,700