Macau casinos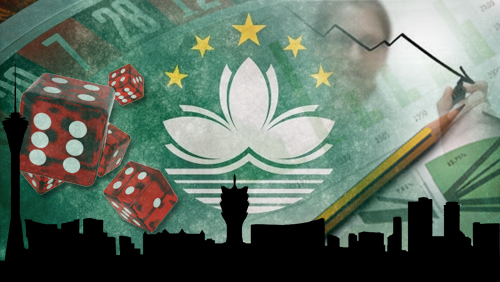 recorded their 11th consecutive revenue drop in April—a 38.8% year-on-year revenue decline.
According to data released by the Macau government on Monday, gambling revenue fell to MOP 19.167b ($2.40 billion) in April, from MOP 31.318b a year earlier.
While Macau's revenues remain close to six times that of Las Vegas, the slowdown is visible as China's crackdown on corruption continued to hit business in the world's casino capital.
An article published in the Asia Pacific Journal of Marketing and Logistics titled, Macau Gambling Industry: Current Challenges and Opportunities Next Decade said that Macau's VIP gaming industry could be boosted by Central Government's decision to reduce the commercial banks' reserve requirements.
The article focuses on the challenges and opportunities of Macau's gambling industry for the next ten years. Despite its current malaise, the outlook for Macau's gambling industry remains optimistic in the long term.
The authors also stressed that casino operators should continue to try to increase revenue from the mass market and non-gambling businesses by relocating resources and adding more non-gambling amenities.
Just like what the luxury hotel St. Regis is doing, as it focuses on family and convention services instead of gambling.
"Gaming would not be the focus of the new hotel," said St Regis Managing Director Joseph Dolp. ""It's there. If you really want it, it will be there. But it's not in your face."
St Regis hotel is a part of the Sands Cotai Central project run by Sands China, which also owns the Venetian.
"Vegas was always a casino place for a very long time, and then it was diversified to be a destination for families, for shows. And this was the reason for diversification in Macau," Dolp added.
St Regis General Manager Paul Cunningham also that said he could see opportunities arising from a new bridge linking Macau with Hong Kong and Zhuhai, home to Macau's neighbor Hengqin, which became part of the new Guangdong Free Trade Zone focusing on travel and leisure in April.