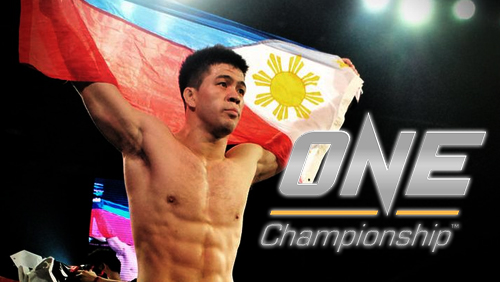 Mark "Mugen" Striegl is set to make his One Championship debut this Friday, April 24, 2015, when he takes on Casey Suire at the One: Valor of Champions event at the SM Mall of Asia Arena in the Philippines.
While some fighters might be up to their necks with jitters days before a highly anticipated fight, Striegl was a picture of calmness. He was relaxed and confident during his media workout yesterday, affably fielding questions about his upcoming fight against Suire and displaying that charismatic side that has endeared him to millions of MMA fans in the Philippines and in Asia.
But Striegl isn't just content with the fame that comes with being an up-and-coming MMA fighter. He is a fighter at his core and behind that million-dollar smile is a fighting machine that packs lightning in his fists and crackling thunder in his legs.
"I can't wait to fight [Casey Suire] at the Mall of Asia Arena," Striegl said.
As a professional fighter for the past six years, Striegl knows the magnitude of being one of the prominent names featured in the card. After all, he's looking to establish himself as an immediate contender for the 135-pound title and he knows that beating Suire will go a long way in strengthening his position for a future bantamweight world title opportunity. But before that road is paved, Striegl knows that he has to beat Suire first and to his credit, he's not underestimating his opponent.
"Casey's a tough guy," he said. "He's an aggressive fighter and he has no quit in him. But I'm the same way."
Striegl believes he can finish off Suire in the "first or second round" even though such a belief isn't uncommon for fighters because they're wired to always believe that they can win any fight they get into. But as he peppered the heavy bag with lightning-quick strikes and thunderous leg kicks, it became pretty clear to everyone in the room that Striegl isn't in the business of throwing out half-baked predictions so people can write their own narratives about it.
The man sweats of determination and  regardless of what everyone else thinks, he's not pressured by his own standards so much as he is motivated to achieve what he set out to do when he first broke into the mixed-martial arts scene.
"My goal is to ultimately become the One Championship bantamweight champion and the road to that begins this Friday against Casey," said Striegl.
This Friday, Striegl will get his first chance at doing just that. He's come this far to be denied that shot and as sharp and focused as he looked during his media workout, don't be surprised if we see him take it to another level against Casey Suire.
That's what motivation does to a world-class fighter like Mark Striegl.
Comments