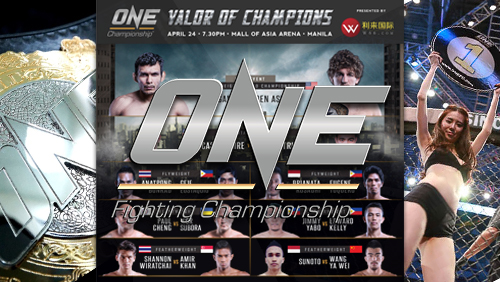 26 March 2015 – Manila, Philippines: Asia's largest mixed martial arts organization with a 90% market share, ONE Championship™ (ONE), has finalized the fight card for ONE: VALOR OF CHAMPIONS with three additional fights. Top featherweights are set to clash as Shannon Wiratchai takes on Amir Khan. An all-Filipino clash is also set to take place at the event when the undefeated Jimmy Yabo takes on Edward Kelly. China's Wang Ya Wei is also set to return to the ONE Championship cage against Indonesia's Sunoto.
Tickets for ONE: VALOR OF CHAMPIONS are on sale now at www.smtickets.com. Ticket categories begin with the full Red Carpet and cageside experience at PHP5380. Tickets priced at PHP3180, PHP1280, PHP640 and PHP220 are also available. Prices include ticketing fee.
CEO OF ONE Championship™, Victor Cui, stated, "ONE: VALOR OF CHAMPIONS is set to be the biggest night of mixed martial arts action in the Philippines! The main event will feature two of the top welterweights in the world battling for supremacy when the best wrestler in mixed martial arts, Ben Askren, takes on 61-win veteran Luis Santos. Get ready for a night of adrenaline-pumping, heart-stopping mixed martial arts action as ONE: VALOR OF CHAMPIONS goes live around the world!"
Amir Khan is a Singaporean mixed martial artist with an undefeated amateur record who has competed in the United States. He is a Brazilian Jiu-Jitsu Blue Belt under Relson Gracie, and also has competitive wrestling and Muay Thai experience. With more than seven years of combat sports experience under his belt, Khan now takes on Shannon Wiratchai after being victorious in his first two ONE Championship bouts.
Shannon Wiratchai is the top featherweight to emerge from Thailand. He has showcased an aggressive, brawling style every time he steps into the ONE Championship cage, making him a favourite among fans. Wiratchai is a practitioner of the Chinese martial art Baguazhang, and will once again look to exhibit the martial art in mixed martial arts action.
Edward Kelly is the younger brother of ONE Championship standout Edward Kelly. One of the brightest featherweight talents to emerge from the Philippines, Kelly looks to get his ONE Championship career back on track with an impressive victory over Jimmy Yabo in his home country.
Jimmy Yabo is an undefeated Filipino mixed martial artist. He boasts the best knockout percentage in the division, having finished all four of his opponents by knockout. He will now test himself against Asia's best, beginning with an all-Filipino bout against Edward Kelly.
Wang Ya Wei is a wrestler originally from Hubei province. Considered one of the top wrestlers in the country, he then moved to Thailand where he trained in Muay Thai for an extended period of time. He performed impressively in the ONE: DYNASTY OF CHAMPIONS Beijing Featherweight Tournament, advancing to the final with a TKO victory over Li Gen.
Sunoto is a kickboxing champion from Indonesia. He is also undefeated in mixed martial arts, having won two prior bouts in his native Indonesia. Sunoto will look to keep his undefeated streak alive when he takes on Wang Ya Wei in an exciting featherweight bout.
For more updates on ONE Championship™, please visit www.onefc.com and follow Twitter and Instagram @ONEFCMMA and Facebook at www.facebook.com/ONEFCMMA
About ONE Championship™
With a 90%+ market share in Asia, ONE Championship™ is Asia's largest Mixed Martial Arts (MMA) organization. Headquartered in Singapore, the world's most exciting mixed martial arts organization hosts the best Asian mixed martial artists and world champions, all signed to exclusive contracts, on the largest media broadcast in Asia. ONE Championship™ has partnered with FOX and STAR Sports for an unprecedented 10-year cable television deal with a coverage that spans 70+ countries across the world.
Media Contact:
Loren Mack, ONE Championship™
(e): [email protected]
(m): +65 9771 5617