Lee Davy sits down with Microgaming's Head of Poker, Alex Scott, to get his opinion on bots, RAWA, Twitch and many other things.
I must confess.
When it comes to writing about poker, I do tend to provide more coverage for the big boys.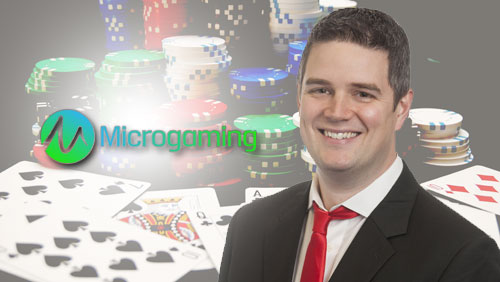 This isn't purposeful.
It's what Google sends my way. PokerStars, Global Poker Index, World Poker Tour, World Series of Poker, Full Tilt, and European Poker Tour. Big names. Big stories.
It's time to give someone else a chance.
It's time to listen to what Microgaming's Head of Poker, Alex Scott, has to say.
As it turns out, it was quite a lot.
How did you get your position?
That's a long story! The short version is I moved back to the Isle of Man with my then fiancée, who grew up here. I was consulting at the time, using my experience in the industry to help people get new projects off the ground. I applied to Microgaming and got my foot in the door to consult on a Game Integrity project, then worked my way up until I became Head of Poker a year ago.
What's the greatest thing about your job?
The best thing is that it doesn't feel like a job. Poker has always been one of my passions, so coming into work and dealing with poker all day is fun, not a chore. I don't think you can do this job very well unless you really care about poker – if you don't care, you will never develop the knowledge you need to make good decisions. Plus, if you're sat in the office with your head buried in a tournament betting structure all day, you need to really care about the outcome, or players will be playing 175/325 with a 2,000 ante before you know it.
The worst?
The worst thing about working in online poker is that you end up playing much less. That's understandable – after all if you were a chef and had just worked a 9-hour shift, the last thing you'd want to do is come home and cook a fancy meal for yourself. If you were a midwife… well, you get the picture, and it's the same in poker.
I blame the occupation for making me a worse poker player! I used to be a winner at 1000 NL, but these days I can beat 50 NL and that's about it. When I play it tends to be for fun – I have always enjoyed hosting home games and still do occasionally.
What are your personal key metrics for 2015?
Without being too specific I can say that my key goals for this year are to grow the network (both by adding new operators to the MPN, and by helping our existing operators to grow their player base) and to establish us as a unique alternative to the market leader.
PokerStars increased rake, then backtracked on it, what's your opinion on their handling of the whole affair?
I think it was great for the MPN and I'd love to see them do it again.
Dan Colman called him a spineless whore; Mukul Pahuja called him a cheeseburger salesman. What do you think of Phil Hellmuth?
I think it's good for the game to have interesting characters, and Phil is certainly interesting. But as an industry, we are moving away from using sponsored pros so heavily in our marketing, because we've finally realized that in order for a pro to be worth what they are paid, they have to be aspirational. Finding an aspirational character – somebody that new players would really want to be like – is much harder.
What's your opinion on Sheldon Adelson?
I think he's a shrewd businessman who sees online gaming as a threat to his business and he is using every tool in his arsenal to protect his own private interests, regardless of the cost.
Will RAWA pass and why or why not?
I am no expert on the American legal system, but I do think this bill is a real threat, yes. The anti-internet gambling message is easy to sell to politicians and the general public – 'click your mouse and lose your house'. Very few people care if that is true or not.
The anti-internet gambling arguments are concise and easy to believe at first glance, while our counterarguments (i.e. the truth) are much more complex. For example, an obvious argument is that kids can just use their parents' accounts to gamble online. To those who don't understand the industry well, this is a plausible scenario. Our counter arguments about the measures that are in place to verify identity and protect players' accounts in today's heavily-regulated world are not simple and concise enough to be easily understood by the masses.
We have seen that substantial portions of the American public and electorate can be fooled by this type of simplistic argument. The current anti-vaccination movement, which has resulted in a major measles outbreak in the US, has thousands of supporters, and the Intelligent Design view of the universe's creation was subject to serious legal challenges in the US over many years when it should have been laughed off as the nonsense it was.
Even though RAWA is based on nothing more than ignorant scaremongering, I think there is a real chance that it passes and the industry should be doing more to counter it.
Amanda Leatherman returned to poker. Who do you want to see return and why?
I'd like to see the duo of Jesse May and Barny Boatman return to poker commentary. I have fond memories of starting out in poker and listening to their excited whispers on Late Night Poker, along with the suspense of not knowing all the hands until just the right moment. It was great TV.
Babelfish: a revolutionary new technology for poker software. Why? In a non-techy and boring way please.
Babelfish makes it possible for you to join our network without having to use the network's software. Previously, either you had your own software and no liquidity, or you had the liquidity but software that wasn't unique. Now, you can build something new and unique but also have the liquidity of an established network, and have massively reduced costs too. It's win-win for all parties.
If PokerStars software is so bloody good, why doesn't all the other networks figure out how they do it and copy it?
I think that's what many operators have fallen into the trap of doing. Instead of innovating, they've played it safe and just copied the market leader. The problem is if someone wants to play on PokerStars, they usually can. So why would they play with you if you were offering the same thing, except with fewer players?
What PokerStars is doing is nothing special, and in general, I think that most poker software is so dated that there is a real opportunity for us to establish ourselves as an alternative, particularly while PokerStars is distracted with Casino and Sportsbook. In fact I'm not sure the opportunity has been this big for years.
Do you ever advertise directly to women?
As a software provider, Microgaming doesn't directly advertise to any player. In fact, we don't directly communicate with players at all because players are our operators' customers, not ours.
I do think the controversy over female-focused marketing is interesting. Poker is a competitive activity where physical strength is not a factor and women can play on a completely equal footing to men at the very highest levels. It is strange to me that there are not more women playing poker.
When I was at University I helped run our Poker Society. We ran a poster campaign trying to get more women to join up, and highlighted some of the horribly sexist things that poker players like Doyle Brunson and Amarillo Slim had said in their books, challenging women to prove them wrong.
That is the kind of marketing I can get behind, but on the other hand I think there is a lot of cynical marketing going on towards women. I imagine a bunch of 50-something men in a boardroom together, deciding that they should have a ladies event at their next tournament and that they should have more pink and pictures of fluffy kittens in their marketing material.
The issue of why poker is so male-dominated is similar to the issue of bingo being female-dominated. I suspect that many women prefer a more casual, friendly experience, and this is what makes bingo attractive. Similarly I suspect that many men prefer a more serious, solitary experience. If I'm right, then I'd expect to see play money poker have a much higher rate of female participation because it is so much more casual and friendly.
I read on a 2+2 post recently that you confirmed there was bot activity on the Microgaming network. How is it possible to distinguish normal play from bot play?
I'm not going to comment on this, because the more information that is out there about how we detect bots, the easier it is for bot designers to evade our detection methods. Bot detection is like an arms race – you develop a new way of detecting bots, then they find a way of evading your detection, and you have to come up with something else.
Every poker site has to deal with bot activity, and other Game Integrity issues like collusion sometimes – you can't avoid it. The important thing is how you deal with such cases – do you investigate the case professionally and fairly? Do you compensate those players who lost money? Do you learn from each case so that you close any loopholes that were exploited?
I think we dealt with the recent bot case properly and in a way that shows our commitment to having a safe and fair network. There is a perception that networks don't take Game Integrity issues seriously and this is absolutely incorrect, as I hope we are showing.
What types of games are bots prevalent?
Bots are not prevalent in any type of game. Bots are rare, and bots that can win are even rarer. Thank Zeus for that, otherwise I'd be moving down to 25 NL!
What's the legal standpoint on these things?
It varies from jurisdiction to jurisdiction, and often the definition of what exactly constitutes cheating is not clear. It goes without saying that we appreciate clarity from regulators on what they consider cheating and how we can report it to the appropriate authorities.
Are there ever investigations that lead to arrests?
I've never known of a bot investigation that has led to an arrest. Our focus is on making the risk versus return unfavorable for bot designers. If they are getting more money confiscated than they are making, then they will move onto something else.
What actions can online poker rooms take to reduce the likelihood of a bot threat?
Having a solid Game Integrity team is key to ensuring a safe network. We have a very experienced team with a lot of smart poker players on it, and we do what we can to support them. Obviously we are not perfect, but we are getting better every day.
Do online poker networks work together/share best practice on these types of issues?
Sadly, no, but I would love to do this.
I am lucky to have had experience with several different online poker companies and have been involved in Game Integrity for many years. I've been able to take the best ideas from my past experiences, along with a few new ones, to come up with a great system. I think if we worked to share this more formally in the industry, then we would all benefit.
What has changed for you since being regulated by the UKGC?
From a poker perspective, not much has changed. We were already compliant with regulations in Italy, France, Spain, Denmark, Estonia, and many other countries, and Microgaming has been a pioneer in responsible gaming for many years. So nothing really took us by surprise.
I think the UK regulations are amongst the best we have seen to date. They have taken feedback from all parties on board in drafting their regulations, and the open liquidity is so important for poker. I wish that the requirements on fund protection had been stricter – I don't think it's appropriate that an operator with two billion pounds of player money can satisfy the regulations simply by putting it in one client account. But overall, the regulations are pretty strong and many other countries could learn from them.
The downside to regulation is that each country's regulations have been different so far. That makes developing for each new set of regulations a time-consuming and expensive process. I would love to see different countries' regulators adopt a common framework for regulation – it would mean more effective regulation, and more innovation in the industry.
The Twitch phenomenon is a great way to showcase your network. What are your plans to take advantage of this?
We have a few ideas. The key thing is that watching poker without knowing the hole cards can be pretty boring. So you need great commentary, or another hook of some kind, to keep viewers interested.
Which poker star do you believe has the capability to be a huge Twitch star and why?
Jason Somerville obviously leaps to mind, as he's sharp enough to deliver great commentary while playing the game, and can take you through his thought process in a really fascinating way.
I tend to think that Twitch will create new stars, rather than existing stars becoming even bigger on Twitch, but we will certainly find out in the next year or so.
Why play on the MPN?
There are lots of reasons.
First and foremost, we really care about poker. So while many other companies out there are focusing less time and effort on poker every day, we are actually spending more time and effort on the game, trying to differentiate ourselves and deliver a thrilling experience to players.
Plus, we don't take ourselves too seriously. It's why we have a tournament called 'The Most Interesting Tournament in the World', and why we ran a promotion called 'Four Play'. There is a sense of humor and mischief running through everything that we do, and that's something you're not going to get with the market leaders.
Did I mention we're guaranteeing $250,000 in our next MPN Poker Tour event? It's quite incredible how fast our tour has grown and this event is going to be a fantastic experience.