Former Baywatch star Pamela Anderson has filed to divorce the former One Drop star Rick Salomon for the third time in the past five years.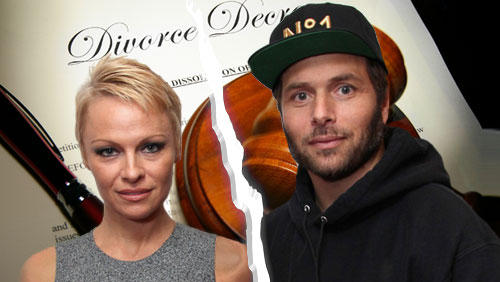 When you achieve notoriety by becoming stars of the sex tape craze, you don't need an audience with John Gottman to realize that the odds of finding marital bliss are not going to be in your favor.
And so it seems to be the case with Pamela Anderson and Rick Salomon. According to court reports obtained by TMZ, the former Baywatch beauty has filed for divorce for the third time in the past five years.
The 47-year old couple first tied the knot in Oct 2007. Two months later and Pammie was filing for an annulment. The couple had some sort of reconciliation and was remarried in Jan 2014. Six months later and Anderson once again filed for divorce, before calling off the separation and falling back in love. It seems it's not going to be third time lucky for Salomon.
Anderson has previous broken marriages to the Motley Crue star Tommy Lee (95-98) and Kid Rock (06 – 07). Anderson and Lee kicked off the sex tape craze when in 1995 a sex tape of the pair was stolen from their home and circulated by the Internet Entertainment Group (IEG). The pair sued IEG, received an out of court settlement, and then allowed the tape to be broadcast. Anderson has also appeared in a sex tape with the former Poison singer Bret Michaels.
Salomon is no stranger to sex-tape controversy. He is partly responsible for the rise to fame of Paris Hilton after his part in the One Night in Paris sex tape involving the pair. In 2008, Salomon finished fourth in the $1m buy-in Big One for One Drop for a $2.8m score. He has over $3m in live tournament earnings.
The Scouse Pammie
If Salomon is still desperate for a little bit of Pammie loving then he shouldn't fret. Why not head over to Liverpool? Home of Anfield, The Beatles and Scouse Pammie.
Caroline Anderson loves her idol so much that she changed her surname by deed poll (I guess she didn't fancy Pamela), and has since spent £20,000 on more than eight boob jobs, lip liner tattoos, Botox, tanning injections, special contact lenses and a new set of chompers.
So what prompts a young Liverpudlian to spend £20k on a mission to look like someone else?
It was her Dad.
"I remember him saying you have a look of Pamela Anderson." Scouse Pammie told The Metro, "Dad was always a bit dubious because I was smart and he wanted me to be a solicitor but it's his fault for planting the idea in the first place."
This is just for you Rick.