The Brazilian Series of Poker has inked a deal with the Global Poker Index that will see their ranking system used to determine the Season 2015 Player of the Year.
When 2,446 players entered the 2013 Brazilian Series of Poker (BSOP) Millions in Sao Paolo, an understanding was reached. Poker is huge in Brazil. Although that number has not been breached since, Ronaldo's dazzling run at the 2015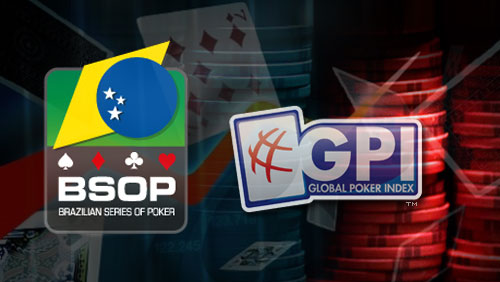 PokerStars Caribbean Adventure (PCA) Main Event, would have added to the clamor to be a true Brazilian poker star.
The BSOP is one of the most exciting tours in Latin America, and this week, they have strengthened their brand by agreeing a deal to use the unique ranking formula of the Global Poker Index (GPI), to help identify the winner of the 2015 BSOP Player of the Year.
The GPI has an estimated 370,000 players on its books, and analyses results from over 300,000 tournaments worldwide. In 2014, Rodrigo Garrido Portaleoni won the BSOP Player of the Year award after cashing an incredible 15-times.
GPI CEO Alex Dreyfus is delighted with the news:
"I am very happy to put the mark of GPI in Brazil, the most active poker market at the moment. Poker in Brazil is booming thanks to BSOP's efforts and its partners. We share the vision of 'esportificar' poker (#SportifyPoker), which has been the BSOP precursor and, I believe the GPI can definitely support this vision. "
BSOP Tournament Director Devanir Campos shares that enthusiasm:
"We are pioneers in the world in attributing the sporting and competitive approach to poker and in this sense, the partnership with the GPI brings further support our vision. All top sports have respected international rankings. With the GPI, poker comes closest to the ideal we have to be internationally recognized for what it is: a mental sport and a skill competition. "
The BSOP is currently underway in Sao Paolo with a schedule containing no fewer than 23 tournaments, including Main Event and High Roller offerings.