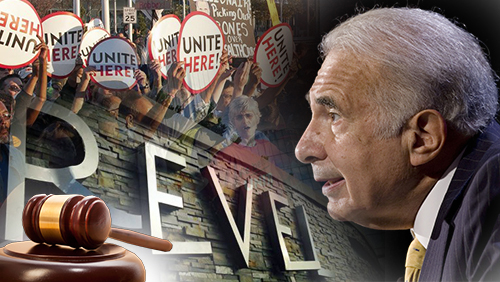 Members of the Unite-HERE union continue to voice their opposition to billionaire investor Carl Icahn's plan to eliminate union benefits of employees from the Trump Taj Mahal casino that Icahn is poised to acquire.
The union has taken its protest to the streets of New York City, just outside the offices of Icahn where it reportedly tried to deliver a letter addressed to the businessman. According to the Associated Press, members of the union didn't get to hand deliver the letter directly to Icahn, stopping short at the front desk of his office where a worker promised to personally give the letter to his boss.
Despite not accomplishing their primary objective, members of the union told the AP that they had made their point and that they expect Icahn to open a dialogue with the union in an effort to iron out their differences.
In its letter, the union called out Icahn's previous comments about his own hard-strung years as a youth in Queens and a supposed attempt to make the union believe that he feels their plight. But members of the union made it perfectly clear that they're not buying what Icahn is selling.
"You may be someone who came up through the streets of Queens, and you may see yourself as the underdog fighting against entrenched corporate executives," the letter read.
"But this time, you aren't fighting executives with multimillion-dollar salaries and expense accounts. This time you are fighting housekeepers, bartenders, food servers, bell people, cooks and cocktail servers. This time you aren't fighting for the little guy, you are fighting the little guy."
A union organizer told the AP that a little over 100 members participated in the protest.
Meanwhile, federal bankruptcy judge Gloria Burns has said that she plans to approve the recent tax breaks given to Revel Hotel and Casino.
The judge didn't give a specific timeline on when she plans to do it, but her approval of the deal adds another positive wrinkle to the city's decision to lower its 2015 valuation of the property.