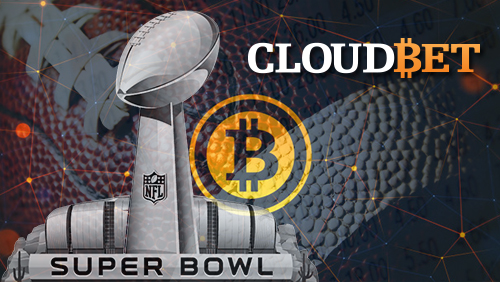 So here we are. By my count, we're three days away from Super Bowl XLIX. It's an exciting time if you're a fan of the New England Patriots or the Seattle Seahawks. But even if you aren't, betting on the Super Bowl is always a sure fire way to make your Super Bowl watching experience more exciting.
Cloudbet is one of many sportsbooks that are offering betting odds on Super Bowl XLIX. But unlike traditional sportsbooks, Cloudbet is different because of one very important feature.
Instead of using cash and/or online credits to make your wagers, bettors can bet on the game at Cloudbet using bitcoins. Yep. Bitcoins.
Cloudbet is a traditional book in a sense that it offers betting odds a host of sporting events, including the Super Bowl. It even has futures, props, and parlays readily available for bettors. But that's where the similarities between this particular site and traditional sportsbooks end.
The fact that it uses bitcoins as its standard mode of transaction is something Cloudbet Marketing Manager Dennis Laudrup believes is a huge advantage for bettors because there's no limit to the amount that any given bettor can bet on.
"There's no limit to the amount that can be sent, so it's perfect for high rollers – if someone wants to send 1,000 bitcoin they can do that, and have it credited to their account immediately," Laudrup told CalvinAyre.com.
Betting limits are apparently foreign to Cloudbet, which, like Laudrup said, makes it an ideal site for deep-pocketed bettors to splash their bitcoins on any SuperBowl bet they want to bet on. Laudrup said that the site is already taking bets of up to 400 bitcoins ($92,000) on Super Bowl XLIX. That number is even expected to reach as much as 1,000 bitcoins by game day ($230,000) and quite possibly even more moving forward. The site is also accepting bets of up to 200 bitcoins ($46,000) on other sports like the NBA, the English Premier League, and the Spanish La Liga, ensuring its customers that it caters to a diverse set of sports where bettors can bet on.
Another advantage of Cloudbet that Laudrup highlighted is the transaction process that goes on with depositing or withdrawing funds from an account. With Cloudbet, players can send funds from anywhere in the world at no cost, and deposits are credited instantly, so there's no waiting around for funds to clear. For what it's worth, it frees up the shackles of having to take large credit card deposits that most online sportsbooks are weary of because of the inherent risk of fraud attached to these transactions.
As far as Super Bowl XLIX itself is concerned, Cloudbet has a pupu platter of betting options to choose from, be it the standard spread and total lines, alternate lines, and a wide variety of prop bets. It doesn't carry some of the more exotic props that have gained popularity in recent years, but it has still has plenty of available props that can instantly turn any fair-weather fan into a Seahawks or Patriots die-hard.
Sports betting using bitcoins is still in its infancy stage relative to standard sportsbooks. But the potential is there and the way it's set up, it could open the doors for more sites of this ilk to follow suit. Not surprisingly, Laudrup is bullish on the future of sportsbooks that operate on bitcoins.
"As more sports bettors come to recognize the combination of extremely low transaction costs, instant transaction times, global reach afforded by bitcoin, we predict this growth will continue throughout 2015."
So if you have a disposable amount of bitcoins lying around and Super Bowl XLIX just a few days from now, maybe put a few bitcoins on whether Rob Gronkowski or Marshawn Lynch can score a touchdown in the game and see where that takes you.