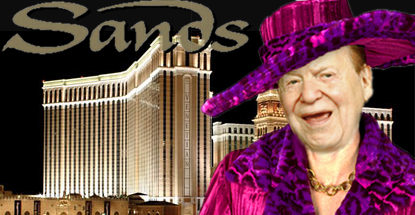 Casino operator Las Vegas Sands (LVS) defied the skeptics by posting strong earnings growth in both Q4 and FY 2014. For the three months ending Dec. 31, revenue rose 6.6% to $3.42b, operating income rose 15.4% to $1.02b and net income rose 24.9% to $721.3m. For the year as a whole, revenue rose 5.9% to $14.58b, operating income rose 20.3% to $4.1b while net income rose 23.2% to $2.84b.
As ever, Sands China was the primary engine of LVS' growth, with full year revenue up 6.8% to $9.57b, adjusted earnings up 12.4% to $3.26b and net income rising 15.4% to $2.55b. The gains came despite Macau's record downturn, which helped push Q4 revenue down 16.2% to $2.12b and profit down 18.3% to $535.3m.
The Venetian Macao saw Q4 revenue fall 23.4% to $880.3m, Sands Cotai Central fell 10.8% to $705m, Sands Macao fell 18% to $268m while the Four Seasons Hotel Macao bucked the trend by rising 2.4% to $243.8m.
Macau's dearth of VIP gamblers was evident in rolling chip volume, which was down nearly 40% at the Venetian, -52.3% at Sands Cotai Central, -36.3% at the Four Seasons and -43% at Sands Macao.
Mass market table drop was down at the Venetian (-7.1%), the Four Seasons (-10.2%) and Sands Macao (-14.2%) but mass market betting rose 10.6% at Sands Cotai Central. Slots numbers were up in the low single-digits at Sands Cotai Central and the Venetian, while rising 10.3% at Sands Macao and falling 42.7% at the Four Seasons.
At Marina Bay Sands in Singapore, revenue rose 27.1% to $838.6m and occupancy rates rose 1.4 points to 98.3%, prompting LVS chairman Sheldon Adelson to paraphrase Mark Twain by saying rumors of Singapore's demise as an integrated resort destination had been greatly exaggerated. Gaming revenue at MBS increased by one-third thanks to VIP win rate nearly doubling year-on-year to 3.58%, which helped offset a 26.8% fall in VIP gambling turnover and a 3.3% decline in mass table drop.
Stateside, LVS' two properties in Las Vegas reported revenue down 6% to $362.6m, driven by a 14.1% decline in gaming revenue as Chinese high-rollers stuck closer to home. Room occupancy in Vegas fell 7.7 points to just 81.1%. In Pennsylvania, Sands Bethlehem revenue rose 7.7% to $133.6m.
ADELSON REMAINS BULLISH ON MACAU
Adelson refused to get pessimistic about Macau's revenue decline, noting that Sands China, with its mass market strengths – market-leading number of hotel rooms, non-gaming amenities, retail malls and meetings and conference space – was better equipped than its competitors to ride out the VIP slowdown.
Mass market tables/slots and non-gaming accounted for 84% of Sands China's 2014 profit, up from 82% in 2013. Adelson noted that Sands China earns more revenue from non-gaming amenities than the other five Macau casino concessionaires combined.
Sands quoted figures showing mainland China visitation to Macau was up across all provinces in 2014, yet no province – even neighboring Guangdong – had yet to reach penetration rates over 9%. The strongest growth was realized in provinces served by high-speed rail and Adelson believes that more mass market gamers will flock to Macau as mainland infrastructure improves.
Adelson took time out to praise exiting Sands China CEO Edward Tracy for his service over the past few years. Adelson, who has assumed the role of Sands China's interim CEO, joked with analysts that he "hadn't done too bad the last few years" and that if he continued to do well he was "going to go to the board and ask for a raise."
Adelson also rejected concerns about LVS' stock price falling as a result of Macau's woes. Adelson said he had 432m shares of LVS, hadn't sold a single share since 2006 and didn't intend to start selling now. Adelson remains bullish on Sands' further expansion into emerging markets because no other company "can present the bona fides that we can do."