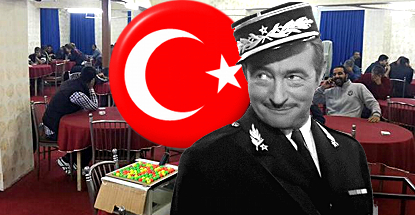 Where there's a will, gamblers will find a way. On Jan. 9, police in Turkey raided the provincial headquarters of a political party, detaining 12 individuals, including the party's leader Öztürk Sezer. The authorities claim the Raising of the Nationalist Will Party (MIY) is not a political movement but a front for illegal gambling activity, specifically, bingo games.
The raid in Adana province resulted in 238 individuals being fined for gambling offenses, while others were charged with earning money for providing a venue for illegal gambling activity. The Hurriyet Daily News quoted a police official saying they'd found vouchers in the office of MIY's provincial chief indicating that MIY had paid the fines imposed on gamblers from previous raids.
This was the third raid of a MIY establishment this year and the 11th since it was founded in late 2014. MIY began life following the demise in September of the Trust Party, whose establishments were raided 44 times under similar circumstances. Despite the harassment, Trust would regroup after each raid and carry on as normal, as only the nation's Supreme Court has the power to completely shut down a political party's activity.
Following the Jan. 9 raid, Sezer did his best Claude Rains from Casablanca "Shocked!" routine, claiming he was only at the provincial HQ because he was "curious when I read media stories that people gambled in my party. I was waiting for the provincial head and then the police came in." Turkey's legal gambling options include a national lottery and some sports betting but other forms of gambling are strictly forbidden.
Meanwhile, the country's Directorate General for Religious Affairs (Diyanet) has attempted to clarify whether Islam frowns on gift draws. In a fatwa issued earlier this month, Diyanet doubled down on its stance that the lottery is forbidden for Muslims because it involves some people winning money while others lose. But gift draws organized by shops, which require no upfront payment to qualify for a prize, are acceptable.
Shifting topics, the fatwa said Turkish men should stop wearing earrings because it would make them effeminate. Most non-Muslims might say the same thing about men playing bingo. But hey, whatever floats your fez.
Comments