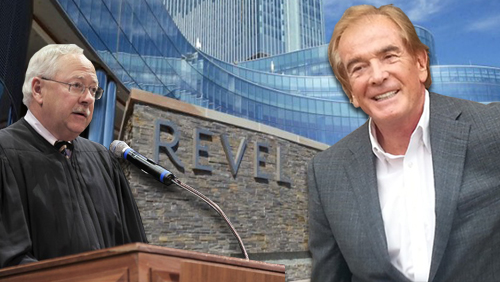 Florida developer Glenn Straub moved one step closer to owning Atlantic City's Revel Casino Hotel (if he still wants it) after a federal judge shot down a request by Revel's business tenants to stop the sale of the property.
Judge Jerome B. Simandle of the U.S. District Court in Camden, N.J. issued the order, freeing Straub from any obligations to honor the leases and other rights of the property's amenity tenants and affirming Chief U.S. Bankruptcy Judge Gloria Burns' ruling that the property could be sold "free and clear of liens, claims, encumbrances and interests."
Simandle also cited the "palpable risk of losing a ready buyer" as one of the reasons behind declining the tenants' request. Without any alternative buyer waiting in the wings, Revel could end up losing out and would be left "empty and commercially unproductive."
"Such concerns would not sufficiently outweigh the far more prevalent interest in facilitating the success of bankruptcy proceedings and enabling such proceedings to reach finality," Simandle added.
Straub, through his lawyer Stuart Moskovitz, threatened to walk away from the deal if the tenants' appeal was approved. But now that the issue has been cleared up, Moskovitz said the purchase would proceed.
The real estate developer also scored a separate victory when Judge Simandle also junked a similar appeal filed by ACR Energy Partners LLC, the operator of the casino's custom-built powerplant.
The powerplant issue has been a major sticking point in the sale of the casino. Canadian equity firm Brookfield Holdings abandoned its planned purchase of Revel because it couldn't agree to a deal with the powerplant operator, to whom Revel reportedly paid more than $3 million a month.
But there seems to be a silver lining in the negotiations between ACR and Straub's Polo North Country Club Inc. ACR's attorney Stuart Brown indicated that the two are negotiating a new contract and that the results of the negotiations could lead to a "mutually agreeable business relation with Polo North."