Florida real estate developer Glenn Straub has finally revealed his plans for the former Revel casino once his acquisition of the property is completed. No, he's not re-opening it as a casino (at least not yet), nor does he plan to turn it into a school campus like what Richard Stockton College plans to do to the old Showboat Casino. Instead, Straub is planning to use the property to open a water park.
Yep. A water park. Oh, how the mighty have fallen.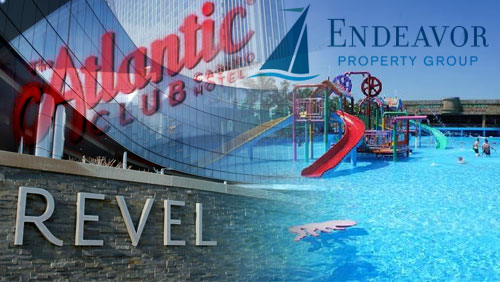 Ridiculous as it sounds, Straub appears serious about his plan, telling reporters this week that he's toying with the idea of opening a high-speed ferry service between the site and New York City. He didn't give a timetable on when the park will open, but it's likely contingent upon the conclusion of ongoing court proceedings Straub is currently in the middle of pertaining to the bankruptcy sale of the property.
A New Jersey bankruptcy judge awarded the sale of Revel to Straub for $95.4 million after Brookfield Asset Management, the winning bidder from a December auction of the property, walked away from the deal. Despite being handed the property seemingly on a silver platter, Straub has threatened legal action to halt the sale because he only wants to pay the initially agreed-upon price of $90 million, minus $3 million in deposit fees.
While Straub appears serious about the water park, his attorney Stuart Moskovitz said Straub hasn't nailed down plans for the property. Moskovitz suggested some kind of casino could be re-opened, but at a much smaller scale than Revel's original operation.
PENNSYLVANIA REAL ESTATE FIRM TO BUY ATLANTIC CLUB
Meanwhile, another one of Atlantic City's shuttered casinos could finally have a buyer. According to multiple reports, a Pennsylvania real estate company that specializes in residential projects and senior citizen housing has agreed to buy the shuttered Atlantic Club Casino Hotel.
An affiliate of Endeavor Property Group LLC is reportedly buying the complex from TJM Properties Inc. for an undisclosed price. Both companies have yet to comment on the prospective sale, but an agreement of sale was filed with the Atlantic County Clerk's Office back in Dec. 29, 2014.
Should the sale go through, Endeavor Property Group can't use the Atlantic Club as a casino again because a deed restriction specifically forbids that from happening. Not that it's going to matter because the buyer's forte as a housing developer could be used to turn the property into some kind of residential complex, specifically for senior citizens looking for a beachside retirement home.