This is a guest contribution by Carl Hendy, a Digital Consultant at carlhendy.com. If you would like to submit a contribution please contact Bill Beatty for submission details. Thank you.
With regards to SEO, one of my favourite verticals to work in is within online gambling due to the competitive nature. It's full of spammers and the high rewards that are available during a successful campaign. On the other hand, I also find it to be one of the most frustrating verticals to work in as online gambling brands (not all, but most) are falling behind when it comes to SEO, which, for a gambling company is most likely to be their preferred channel of acquisition (the cheapest).
Whilst most other SEO verticals are pushing forward with content marketing (aka link building), community building and engagement, and data visualization, most gaming sites are still focusing on keyword level SEO and low quality link building.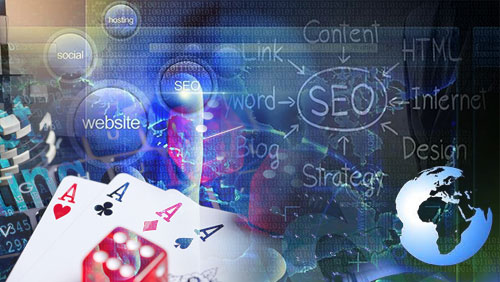 I have outlined below some of the core areas where online gambling companies are getting it wrong within SEO and in most cases these issues can also be resolved with a change of strategy and within the existing budgets available. It will require significant education and learning internally however, and if you're looking for a longer-term sustainable SEO strategy, then education is required.
I will caveat the below that this post is more targeted towards "real brands" and not your average spammer who is happy to churn through domains / websites and has no interest in building a real brand. I have also refrained from naming and shaming, however, my examples are based on real SEO case studies.
Short Term View
Sitting in meetings hearing "well if we only rank for 6 months of the year in position 1 that's good for us to take the risk". This strategy may have well worked 3-5 years ago, however, this strategy is no longer acceptable especially if you are an established brand.
Reasons being;
Google has changed its strategy on the penalization of websites. Unlike in the past where if you were penalized and had your rankings disappear overnight, it was very easy to get in touch with a Google engineer, say you're sorry, a little bit of cleaning up and you were ranking back to your existing positions, and in some cases, even better than before. Google now has a much stricter process in place which can take many weeks, if not months, to resolve and once you have had the filter / penalty lifted, in most cases your previous rankings are not resumed and your website has to rebuild much of the trust for those high ranking / highly profitable positions.
If you are a large brand that has many different websites as most online gambling companies do, there is a good chance this could put all your websites under the Google radar. This will significantly increase the chances of your other websites also being penalized, especially if you are using the same strategy across all your websites. If you are a repeat offender, there is also a small chance Google may go after your brand to teach you a lesson and would also provide some nice PR for the Google Webspam Team. If you feel Google cannot connect your websites / brands then you would be wrong, nearly everyone leaves a footprint.
Negative brand exposure to a highly visibly penalty could become a PR nightmare for a brand. SEO's and mainstream media have an easier and cheaper route to SEO data. Using software such as Search Metrics and SEMRush can allow you to gain a quick insight into a website's SEO visibility thus making it very easy to determine if there has been some sort of penalty (not all SEO visibility drops are penalty induced). Then using backlink data tools such as Ahrefs and Majestic allows you to dig deeper into a website's backlink profile and cause of issues. This faster route to data makes it easier for journalists to jump to their desk and write up a story about how "naughty" a well known brand has been or fire up their Twitter account to raise awareness of the Google penalty.
Content Marketing aka Link Building
I don't really care what you want to call it but to compete aggressively in the search results you need links from good to high quality websites. I won't go into too much detail about links for gambling websites as that could be a post in its own right.
Where I feel there is an issue is that the links being acquired by agencies or in-house teams are not being thoroughly checked with a focus more on the number of links as opposed to the quality. Links teams are set a budget each month with link numbers to acquire and that is most important number.
Link URL targets for link building are another issue. The situation goes something like this, "we need to rank for [play online poker for free on mobile]". There is a landing page created /play-online-poker-for-free/ (more on this later), with 200-300 words added to the page below the fold. The link team then immediately begins building low quality links to a low quality page within 1 day of the page being live. This page gets no social traffic, no high quality citations and is hidden in the depths of the website. This new URL gets 15 new links a month for 6 months. This creates a pattern of low quality signals and raises flags at Google putting you once again under the spotlight.
Blog networks, sports blog networks, Mummy blog networks and private blog networks these are all networks that big brands should stay away from because in reality, big brands do not need to have links from the networks for a successful SEO campaign. Nearly all networks get busted by Google at some point. Going back to an earlier point, those in charge are also not checking IP ranges of backlinks that are acquired. Even if links look different or look like different websites, they could also be sitting within the same network / same Webmaster.
Landing Page Keyword Focused
This is an area pretty much all gambling sites fail at. There is too much focus on ranking for singular keywords or small amount of phrases by targeting them to heavily, and in most cases, over optimized landing pages.
Another example, 'we need to rank for Mary Poppins Slots", here's what happens….
Url created: domainname.com/play-mary-poppins-slots/
Title tag: Play Mary Poppins Slots
H1 tag: Play Mary Poppins Slots
H2 tag: Play Mary Poppins Slots Online
Body content: 200-300 words to include 3x [Mary Poppins slots], 2x [play Mary Poppins slots online] and 1 x [best place to play Mary Poppins slots online].
Internal links: Set to [Mary Poppins Slots]
External links: Set to [Mary Poppins Slots]
Image Alt tag: [Mary Poppins Slots]
You get the picture.
All this focus is just too obvious to Google that you are trying to hard to target a particular search phrase in the Google search results. What makes matters worse is that all your competitors are doing the same; therefore, it makes it harder for Google to distinguish differentiators and rank the better content. Brands should look at what their competitors are doing for content, usually ignore it and create product content that is unique, relevant to the readers, converts and different to their competitors. These keyword rich landing pages always tend to be thin on content. Your content should reflect your customers and brand not Google's Keyword Tool data.
Content Strategy
In most cases, content strategy is a WordPress blog hosted on a subdomain (for security) using a basic WordPress template and default layout.
The strategy then follows as
1 x blog post daily – 500 – 750 words to include two images
1 x Tweet / Share / Google+
For starters, this is not really a strategy but more a timetable of tasks. Lots of content strategies are often looking in the wrong places on their websites. The focus is often around /blog/ where as just as much attention should be given to the core traffic driving pages and revenue generating pages. Gambling websites historically do not like to add much content to revenue generating pages, opting for the large [download now] button as their main focus of content.
As part of any content strategy, there should an audit of existing content asking questions such as;
What value does this page offer?
Does this page have a high bounce rate?
Does this page generate revenue?
Does this page load slowly?
Has this page been had any multi variant testing?
Do users engage with this page?
Does this page work on mobile / tablet?
Other issues exist where brands are persistent on creating yet another microsite (external website) to host content or video. These microsites end up becoming unloved very quickly with little traction due to the audience being on the core site, which does not offer any engagement options except to hit that big [download now] button.
Lots of content gets added below the fold, especially on product pages or slot game pages with websites opting for a large, bloated image to be above the fold.
When brands do run successful blogs, there is often little, if none, engagement from the brands on the blogs / forum / community.
It's better to create less high quality content than to have lots of low quality keyword driven content.
Mobile / Tablet Optimisation
Gambling companies often create fantastic mobile / tablet applications for playing their platform, however, their websites experience is often forgetting about their blog or community content that is not mobile / tablet friendly, making it hard for visitors to engage with the brand thus also reducing the conversion rate.
All of the website needs to be mobile / tablet friendly.
Using Affiliates For Links
One of the oldest tricks in online gaming SEO is running an in-house affiliate campaign whereby you use your affiliates to pass back authority to your website with them using your affiliate banners and affiliate links on the affiliates website.
This is something I would advise strongly against. Most affiliates within the gaming industry (not all) are low quality websites who often participate in acquiring low quality links to their websites to inflate rankings. So you end up with a chain effect of:
Very low quality website > link > low quality affiliate website > link > targetwebsite.com
All affiliates links should go through a separate domain redirection which is blocked from passing any SEO value to the target website. All affiliate links should also be "no followed" links mitigating any risk from a Google penalty / filter.
If you have a large number of porn networks or websites that run pop under ads or open new tabs automatically, these websites should 100% not be passing any SEO value to your target website.
3rd Party and White Label Websites
Casino and poker often white label their gaming platforms other media outlets. This is completely fine to do, however, from an SEO perspective, you need to make sure that all content is rewritten by the 3rd party that is white labeling on your product. The content does not only need to be rewritten, I would advise on all white label websites to use new images, different URL structure and remake all videos. As a 3rd party, their website should look and read completely differently.
The reason being, Google hates duplicate content and can often get confused as to the original source of the content, therefore it may not be the 3rd party that is filtered for duplicate content especially if the 3rd party website is a powerful and authoritative domain e.g. newspaper website. The issue can become even worse if this duplicate content causes the Google Panda update to trip one of their filters, making it very hard for you to retake the rankings back from the 3rd party website.
These are just a few of the core issues gaming companies fall foul to. Many SEO's believe that Google takes a different view on the gaming vertical and that spammers and brands are allowed to run riot however as Google algorithm becomes more sophisticated there will be no escape for any vertical.
Carl Hendy is a digital consultant at carlhendy.com. Carl has spent the last 6 years working with in the digital landscape within the poker, casino, bingo and sports betting verticals.
If you would like to discuss any of this post, drop a comment below or you can find me on http://www.twitter.com/carlhendy.