Daniel Colman rubber-stamps his superiority over the rest of the poker world after ending the year in first position in both the Global Poker Index and BLUFF Player of the Year leaderboards.
BLUFF magazine called Daniel Colman's year 'one of the best individual years in tournament poker history.'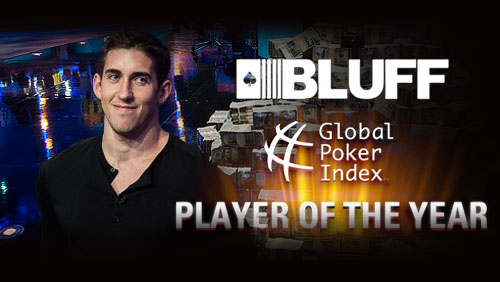 Are you kidding me?
One of the best?
It was THE best.
He was the Diego Maradona of the 1986 World Cup Finals, he was Germany versus Brazil in the 2014 World Cup Semi-Finals, he was John Doyle versus the field in the 2014 World Conkers Championships.
Four major titles in field sizes ranging from 17 to 1,499, and more money earned in a single year than ever before in the history of the game ($22m+) – surely ranks as THE achievement of a lifetime.
Colman ignited the poker world in more ways than one. Not only did he engage, excite and elevate the game of poker to a whole new level, but he also pulled his pants down flicked a lighter between his ass cheeks and let rip.
His decision to remain mute in front of that feed the world stack of cash; his decision to bring politics into poker in Barcelona, and his choice to play sticks and stones with Phil Hellmuth also showed that he isn't a stranger to controversy.
It was a year the likes of which he may never experience again. But right now it's nothing more than a memory. It's time to knuckle down and become a great. It's time to see if he can stand the test of time, or whether he will become the most controversial flash in the pan the poker kitchen has ever sizzled.
Colman's top honor berth in both the Global Poker Index (GPI) and BLUFF Player of the Year rankings goes to show that the formulas aren't a million miles apart. That is until you consider that Mike Leah finished runner-up to Colman in the BLUFF rankings, and was only deemed worthy of a 21st place finish in the GPI rankings.
Other Men are from Mars and Women are from Venus type contrasts were Doug Polk finishing 10th in the BLUFF rankings, and 52nd in the GPI, Jason Mercier finishing 31st in the BLUFF rankings and 9th in the GPI, and Scott Seiver finishing 38th in the BLUFF rankings and 10th in the GPI.
Fortunately, nobody gives a toss about anyone other than the number one and in 2014 the number one was Daniel Colman.
2014 Global Poker Index Player of the Year
1st. Daniel Colman – 4,141.91 pts
2nd. Ole Schemion – 4,125.39 pts
3rd. Davidi Kitai – 4,096.10 pts
4th. Ami Barer – 3,873.15 pts
5th. Dan Smith – 3,839.04 pts
6th. Mustapha Kanit – 3,656.31 pts
7th. Jacob Schindler – 3,604.15 pts
8th. Keven Stammen – 3,591.38 pts
9th. Jason Mercier – 3,545.77 pts
10th. Scott Seiver – 3,480.86 pts
2014 BLUFF Player of the Year
1st. Daniel Colman – 1,447.70 pts
2nd. Mike Leah – 1,149.64 pts
3rd. Dan Smith – 949.35 pts
4th. Ami Barer – 930.79 pts
5th. Ole Schemion – 927.56
6th. Martin Jacobson – 888.50 pts
7th. Mukul Pahuja – 882.40 pts
8th. Pratyush Buddiga – 881.36 pts
9th. Davidi Kitai – 877.60 pts
10th. Doug Polk 823.55 pts