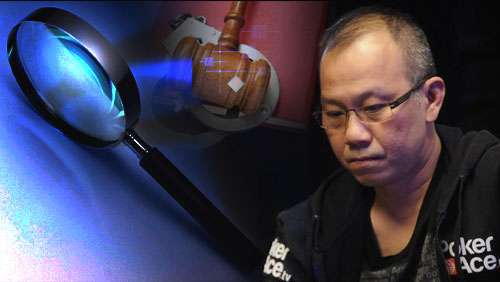 [polldaddy poll=8515978]
Attorneys defending Paul Phua against illegal betting charges have doubled down on their assertion that the searches that led to their client's arrest were unconstitutional and thus any evidence obtained via these searches is inadmissible, which is why we decided to ask our readers, "Will the evidence against Paul Phua obtained via warrantless search be admissible in court?"
69% said, "No" and 31% said "Yes."
Malaysian high-stakes poker player Paul Phua was arrested in July along with seven others over claims that the group handled as much as $360m in online wagers from Asian bettors and some US residents.
In June, Phua was also arrested in Macau, along with more than 20 others for operating an illegal sportsbook accepting bets on the 2014 FIFA World Cup tournament. Phua traveled to Vegas shortly after being released by Macau authorities.
Phua and friends reserved three villas at Caesars Palace in Vegas, where they requested that the casino install a large amount of electronics equipment to support eight Digital Subscriber Line (DSL) lines and WiFi access.
Following the arrests, Phua's high-stakes poker buddies Phil Ivey and Andrew Robi put up $2.5m in cash to enable Phua & son to make bail. Phua and son were released under the condition of wearing GPS ankle bracelets while residing at the home of a Las Vegas doctor. In addition to the $2.5m cash, the elder Phua has put up his $48m Gulfstream jet as collateral.
In August, Wei Seng "Paul" Phua formally entered a "not guilty" plea. Phua's defense lawyers, David Chesnoff and Thomas Goldstein, are challenging the constitutionality of the Caesars raid, trying to persuade U.S. Magistrate Judge Peggy Leen to recommend tossing out the evidence agents seized.
The lawyers contend agents conducted a warrantless search days before the raid that violated their clients' due process rights. The agents cut off internet service inside the villas and then entered them posing as computer technicians to gather evidence before they obtained search warrants.
On Tuesday, Paul Urban, director of Caesars' special investigation, testified how his internal investigation led an FBI raid on alleged World Cup betting scheme.
Urban said his investigation was launched after receiving a photo of one of the villas loaded with computers, wide-screen televisions and WiFi equipment commonly found in illegal sports betting wire rooms. He then turned over what he has learned to state gaming agents, who then brought in the FBI.
Holidays are coming…have you been good this year? Santa wants to know; join our weekly poll as we ask, "Have you been naughty or nice?"