The Winning Poker Network had no choice but to terminate their valiant attempt to host the first $1m guaranteed online poker tournament, since Black Friday, after being subjected to a Distributed Denial of Service (DDoS) attack.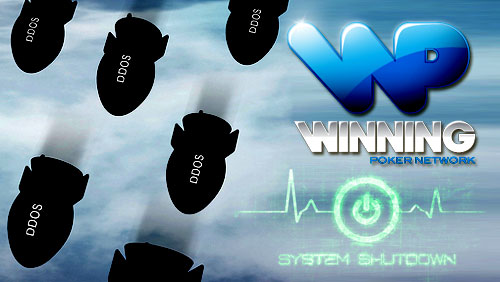 Six months of hard work poured down the drain.
That's how it will feel for the Winning Poker Network (WPN) CEO, Phil Payton, after their  brave attempt to host the first $1m guaranteed online poker tournament, since PokerStars and Full Tilt Poker left U.S soil, ended in disaster on Sunday.
It was back in July that the WPN announced plans to host a $1m guaranteed event. Since revealing their hand a lot of time and effort has been poured into making the tournament a success. Carrying a $500+$40 buy-in they needed to attract 2,000 players to meet the guarantee. Satellites and promotions ensured that with 45-minutes of late registration still available, they were on track to do just that with 1,937 entrants flashing on the scoreboard.
"Due to circumstances out of our control, we have failed to provide a stable, fair gaming experience. Many players timed out, while others remained connected. As per our terms and conditions, the tournament has been canceled and buy-in fees have been refunded to all participants."
That was the message that greeted all remaining players, 5.5hrs into the event. The $1m guarantee was a failure. But why? What had gone so horribly wrong?
It's believed that during those 5.5hrs, game play was constantly disrupted by loss of Internet connectivity issues. In the end the disruptions became so severe, and frequent, Payton knew him and his team had to react. So, they pulled the plug, and Payton is under no illusion that they were the victims of a specific attack.
Speaking on Twitch.tv Payton said:
"Whoever was causing the Internet disconnections was waiting for the million. The second that it started, it started."
Targeted Distributed Denial of Service (DDOS) attacks are being blamed for the cancellation. Worryingly, a trend is started to develop. In Nov, technical issues affected the Carbon Poker Online Poker Series, as it did to partypoker's Garden State Super Series. Is someone deliberately targeting American online poker room?
It's not only Americans who are feeling the brunt of someone's wrath. Sweden have also been blighted with DDoS attacks recently. Nobody knows why the attacks are taking place, but you don't need to be a rocket scientist to figure it out. Someone has a bone to pick with online poker.
However, the WPN made sure that everyone involved in the tournament had their buy-ins returned to them.
"There's a lot of sites that would say let them push through it, and we make $80,000, and gg," Payton said. "Well, you know what, I've got to sleep with myself at night, and I'm not going to do that. If it happened again tomorrow, I'd do the same thing."