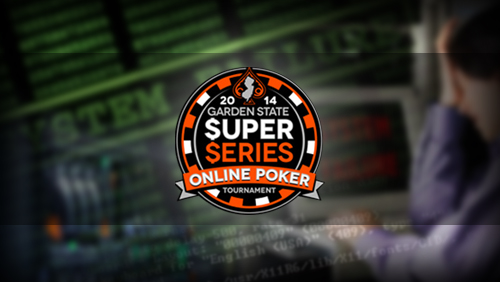 Partypoker's New Jersey servers freeze during the Garden State Super Series online poker tournament, sending over 700 players into a fury as the tournament series comes to a premature end.
What's your worse fear?
I'm talking about the one that makes you shudder?
If you are Jeffrey Haas, partypoker's Group Director of Poker, I assume his worse nightmare is to have a server meltdown smack, bang, in the middle of the Garden State Super Series (GSSS) Main Event—that's exactly what happened on Sunday night.
It should have been a landmark occasion for partypoker. Instead, it turned out to be an unmitigated disaster after they suffered an unrecoverable error during the busiest period since their November 2013 launch.
Michael "Gags30" Gagliano is a New Jersey online reg and he offers his view from the rock face.
"I was playing a bunch on partypoker, all of the GSSS events and also a bunch of satellites. Around 6:45 p.m. or so I noticed that a few satellites didn't launch that were supposed to start at 6:40 and 6:45. Everything else seemed to be running fine though. Then after 7:00 came and went, the GSSS tourney that was supposed to launch never did. Finally, about 7:15 or so they paused all of the running tournaments. Everything was just frozen for a while but eventually they flashed a message that they were working on a solution to fix the problems. After another few messages we were told tournaments would be resuming shortly, and then all of a sudden all the tables closed and connection to the server was lost. All the running tournaments had been cancelled and were gone from the client."
Players had traveled to New Jersey from all over the country to play in the inaugural GSSS. It was like the good old days. Ebony Kenny, Matt Stout and Jeff Gross a selection of well-known pros that made the trip.
Here's Kenny's view from the rock face.
"Me and a few other players were grinding together when it happened. I was playing the 25k and Main Event, and had been trying to reg the $100 buy-in. It let me, and then unregged me, and that tourney was paused. I was still able to play the other ones, as were the other people I was with. The $100 tourney was paused for at least 40 min before the rest of the tourneys just locked up. It seemed like I had lost connection, and I tried restarting and nothing happened. When I logged back on after about 40 min of waiting, the tourneys were just gone. It still showed me registered in my list of tourneys but when there was no option to take my seat. The notification of suspending the tourneys came almost 2 hours of dead time, I believe."
As a hoard of disappointing customers took to social media to vent their frustration, Haas issued a statement to the players, explaining that they "suffered a system failure on a key component that manages and schedules tournaments."
"The technical teams across partypoker have worked non-stop since it occurred last night to identify and provide a permanent fix for the issue. This has now been deployed today, and the technical teams are confident that we should not experience a recurrence of this very unfortunate event in the future."
Whilst there is obvious discontent amongst those who were playing (Christmas had just been cancelled whilst presents were being opened ffs) both Kenny and Gagliano were appreciative of the efforts of partypoker to appease the situation; by offering to honor their guarantees, promptly pay back players who were due, and adding $50,000 to the remaining prize pools.
"It's frustrating, to say the least but I'm sure partypoker is doing what it can to figure out what caused the malfunction and hopefully prevent it from happening in the future," said Kenny.
"Party did a good job of quickly refunding buy-ins based on their cancelled tournament policy and did pay out the full guarantees of the events.
"Yesterday I was pretty upset. Not only did they have a big error on their biggest day but also they were very slow to issue a statement to players to even notify them of what is going on. Communication could have definitely been better. Today, however, the statement they released was very well written and appears to be from the heart. I think the added $50K to various tournaments is a pretty good solution and will hopefully make others happy," said Gagliano.
The GSSS Main Event attracted over 700 players but as the tournament entered late registration it seemed very likely that there would be an overlay. Eventually, partypoker met every single guarantee on the site, including almost $70,000 in overlays.
The sites cancellation policy means that those eliminated from tournaments—at the time of the technical fault—were not refunded their buy-in or entry fee. Players still in the event were refunded the amount that would have been awarded to the next player to be eliminated in the tournament.
50% of the remaining prize pool was distributed equally amongst the remaining players, and the other 50% was awarded on a percentage basis according to the player's chip stacks at the time of the technical fault.
GSSS events #19 & #20, at all three buy-in levels, had $50,000 in additional prize money added by partypoker as a way of an apology.
"We have been humbled by this experience and appreciate the inconvenience and lack of confidence experienced by our players, and are so sorry. Our goal now is to fix our systems (a patch was just deployed), and make it up to our players," said Haas.