New Jersey online poker is given the once over by Mike 'Gags30' Gagliano, and Neo Poker Bot is planning to become the stage of poker training evolution.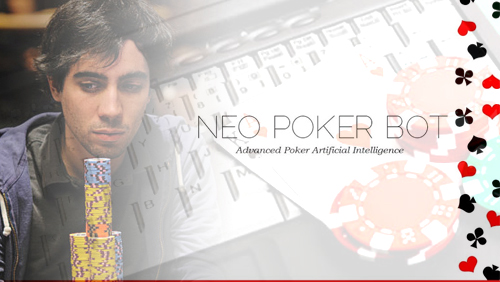 What are the best online poker sites to play on in New Jersey?
PokerSoftware.com writer Jason Glatzer recently sat down with the New Jersey resident Mike 'Gags30' Gagliano to ask him that very question.
Gagliano has been playing poker for close to a decade and is a coach at Premierpokercoaching.com. He has been on a New Jersey heater as of late winning the PartyPoker New Jersey's Daily $5,000 Guaranteed twice, the Sunday $50k, and taking third in the WSOP $10k Weekly Sunday Guarantee for a combined mass of $13,000.
What was great about the interview is the impartiality. Gagliano has no ties with any of the sites and so his opinion is voiced without bias.
He plays on PartyPoker, Borgata Poker, WSOP.com, 888Poker and Ultimate Poker. He says that although the Party and Borgata skins use the same player pool he continues to play on them both in order to take advantage of their promotions.
He believes that WSOP and 888 have the best software despite having two 'big bugs' that need fixing, namely that the tables don't balance correctly, when the play is 10-handed, and sometimes the action takes place in the wrong order with the button getting the chance to play before the small blind.
He went on to say that the Party/Borgata interfaces were good, but there were still a lot of lobby and in-game issues that were the reason the sites ranked as his second favorites.
A lack of waiting lists for cash games, inability to quickly rebuy and various other lobby/cashier/promotion issues causing grief to Gagliano, who states it's particularly annoying when multi-tabling.
Ultimate Poker gets his vote for a 'distant third'. He says the site is visually appealing, but a 'nightmare' for a player choosing to multi-table. He went on to say that the site lacked a lot of features that made the others very appealing, and the tables don't pop up in the correct order making multi-tabling extremely difficult.
Gagliano was also quoted as saying that he uses Hold'em Manager 2 on all the sites without any issues.
Is Artificial Intelligence the Way Forward for Online Poker Training?
The answer to that question is a resounding yes if you listen to Neo Poker Bot CEO Rob Gallo.
Gallo's artificial poker bot training software, known as Neo Poker Bot, recently won the first prize for the Most Innovative New Gaming Technology at the GIGse conference in San Francisco, and he has big plans to take it to the next level.
"Ninety-five percent of people that play real money gaming lose money. There are no other training tools out there that actually improve your game," Gallo told #Vegastech.
Neo Poker Bot relies on artificial intelligence that has been created by analyzing billions of hands of poker, and combining this knowledge with the understanding of player's past and current behaviors, which it monitors to adapt to future behavior.
Gallo believes that as the players improve so does the artificial intelligence as it uses neural networks when analysing the play and can adjust on the fly. Users of Neo Poker Bot can run through 22 various levels of training with the highest level on par with the abilities of the Global Poker Index (GPI) Top 100 players.
Gallo is currently looking for investors to take his product to the next level, but in the meantime it is available for free on iOS and Android devices, so go and take a look.
Comments