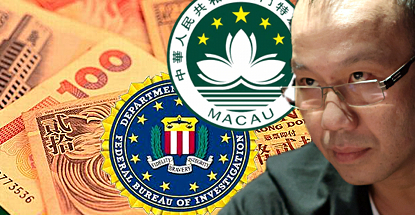 The illegal sports betting brouhaha surrounding Wei Seng 'Paul' Phua took more dramatic turns this week, including federal law enforcement officials (a) defending their apparent violations of the US Constitution and (b) claiming that Phua bribed Macau officials to secure his release on similar illegal gambling charges. Phua is a high-stakes poker player, a former Macau casino junket operator and is reputed to have a significant ownership stake in Asian online betting giant IBCbet.
Phua was one of eight individuals arrested in July on charges of operating an illegal FIFA World Cup betting business out of three luxury villas at Caesars Palace in Las Vegas. Just weeks before this arrest, Phua was among two-dozen individuals arrested in what Macau officials called the largest illegal sports betting bust on local record. Questions have swirled as to how Phua was able to obtain his release on bail, which allowed he and his entourage to fly first to London, then on to Vegas where they apparently picked up where they left off.
This week saw the opposing parties back in court in Nevada, where prosecutors submitted documents alleging that Phua had secured his Macau release via "under the table" payments to local police. The feds claim to have learned of these alleged bribes via instant messages sent by Phua's 23-year-old son Darren, who was also among those arrested in Vegas.
The feds claim Phua Jr. informed a friend that one of the Macau cops who busted Phua Sr. was "a friend of Paul and they are negotiating now. Hopefully they just want money." Phua Jr. went on to suggest the sum being negotiated was between HKD 4m and 5m (US $515k – $645k). Phua's attorney David Chesnoff has "vehemently" denied the allegations, which he said were "only cited to prejudice" his client and relied on illegally obtained evidence.
SHADES OF "WHEN THE PRESIDENT DOES IT, THAT MEANS THAT IT IS NOT ILLEGAL"
As for the legality of the FBI's 'warrantless search' of the villas occupied by Phua's entourage, Assistant US Attorney Kimberly Frayn rejected claims that anyone's constitutional rights had been violated. Since the arrest, it's been revealed that law enforcement officials purposely messed with the villas' internet connections, which prompted Phua to call for technical help. This help arrived in the form of federal agents disguised as the Geek Squad but wearing secret recording devices with which to document any wrongdoing, which they subsequently used to obtain the arrest warrants.
Prior to the raid, Frayn was captured on a video obtained by the Associated Press, in which she can be heard urging Federal Bureau of Investigation agents not to proceed with their plot, suggesting it involved "a consent issue." Notably, Monday's government filing made no mention of this conversation.
The filing said the feds had "ample reason to suspect defendants of illegal bookmaking before raising any ruse in this matter. Law enforcement began to investigate defendants after Caesars personnel saw things inside defendants' villas that caused them to be concerned with the possibility of criminal activity."
The filing argues that law enforcement "has long been permitted to obtain consent by posing as a confederate, business associate or service provider." Prosecutors contend their action would only have been illegal if they had put the defendants in a situation where they had no choice but to admit the 'repairmen' but Frayn insisted that disrupting the internet supply "did not – in any legitimate sense – require immediate attention."