90 Digital CEO Nick Garner gives us an overview on the excel-based tool 90SOS Tool (Share of search) in this edition of CalvinAyre.com's SEO Tip of the Week.
What if there was a free tool that shows you every domain and a bunch of useful metrics that for any group of keywords for any version of Google?
Whenever I need to do some background research into a particular keyword neighbourhood and I want to see what sites are ranking well, or i want to see how a particular site is doing, there are a few ways I can do it.
One is to manually review a number of keywords and make some kind of estimate on who is ranking where. The other is to use tools like SEMRUSH and work out who is ranking on big phrases and then look at the other phrases these domains rank for. The other is to do a bulk scrape of Google search results, but its hard to make sense of the data i.e. which phrases were more important than another and so on.
Basically, I didn't find a solution which answered these questions
Who ranks highest amongst a group of keywords?

What is their share of search i.e. who dominates overall in this group of keywords?

What specific keywords do they rank for?
So after a lot of digging around for a solution, I came up with a simple one…and commissioned a  an Excel 2013 tool that scrapes any set of keywords from any version of Google to any (reasonable) depth. It then aggregates the information in a table that answers all my questions on who ranks where and for what.
The process is to get a batch of keywords with search volume and cost per click data. Its always better to have keywords that are closely associated so the results make more sense i.e. casino bonus phrases, or free bet phrases, or whatever.
Then get the search volumes and cost per click values of these phrases. The next step is to multiply the cost per click and the search volume to give you a single figure. This becomes your metric for which you order the most important phrases by a combination of cost per click and traffic volumes.
Aside: We have also set up a randomiser so it pings Google at different intervals. the greater the interval, the less likely you will be to get your IP temporarily blocked
The input looks like this: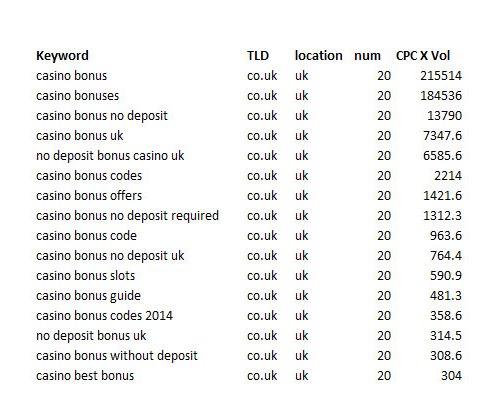 And the output looks like this:
So immediately I know so much about this keyword neighbourhood. and from that i can judge:
How much upside a brand has amongst the keyword set

Their overall share of search for the phrases they care about within this keyword group

Monthly movements in share (if i re do the test over time)

Sites worth link prospecting for

Sites worth looking at when doing link forensics
The tool is free, so  all you need to do is download it from 90digital.com, follow the instructions and away you go.
Comments