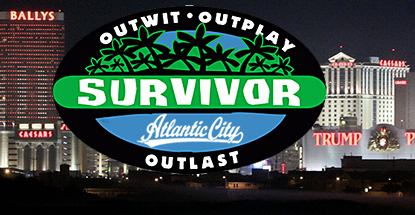 Atlantic City casinos reported gaming revenue of $209.4m in the month of September, which, like one of those old Choose Your Own Adventure kids' books, can be either good or bad. This year's closure of four AC casinos – with a fifth likely gone by next month – has wreaked havoc with the Division of Gaming Enforcement's capacity to offer easy year-on-year comparisons. So everyone get out your copy of Choose Your Own Debacle and we'll begin.
First of all, last year's full complement of 12 operational casinos earned $240.2m, so in pure terms the year-on-year-decline is around 13%. But $10m of September 2014's haul came from the casino's online gambling operations, which weren't up and running last year, so the brick-and-mortar revenue decline is actually much worse.
However, things get a lot brighter when you compare the performance of the eight casinos whose lights remained on in both reporting periods. Viewed through that filter, revenue rose 3.8% to $197.7m (up 9.1% once you add the online revenue).
As ever, the Borgata eclipsed all comers with $58.5m, a year-on-year improvement of 13%. The Borgata's online gambling partnership with Bwin.party is also the state's market leader, and absent that revenue stream the casino's yearly improvement shrinks to 6.3%. Caesars Entertainment's Harrah's improved 5.9% to $31.3m, while Caesars Atlantic City gained 9.6% to $26.1m. The Tropicana placed fourth with $23.4m, up 15.8% (up 5.7% minus its online contribution).
The rest of this shrinking cast finished as follows: Bally's ($19.6m, -2.3%), Trump Taj Mahal ($17.5, -22.9%), Golden Nugget ($16.3m, +51.6%) and Resorts ($11.6m, flat). The Trump Plaza, which was already knee-deep in mothballs by its mid-month closing, eked out a mere $767k.
If it helps, things weren't much better up the coast in Connecticut, where the state's two tribal casinos each reported declines in both slot machine handle and revenue. Mohegan Sun reported slots handle down 8% to $569.6m and revenue down 7% to $46.5m, while Foxwoods Resorts Casino saw slots handle fall 12% to $445.8m and revenue down by one-fifth to $36m.
Comments