Alex Antonios prevents history in the making, after stopping Phil Hellmuth from winning his 14th World Series of Poker bracelet, after topping the field in Event #7: AU$2,200 No-Limit Hold'em 6-Max at the Asia Pacific series.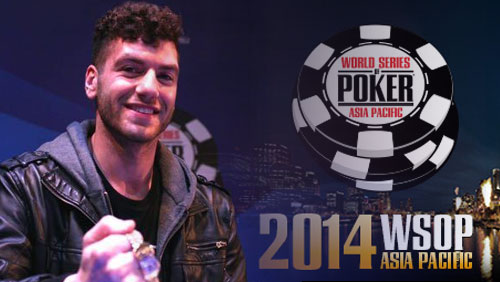 Alex Antonios is a headline stealer.
As the poker world waited to wax lyrical about the vice like grip that Phil Hellmuth has over the World Series of Poker (WSOP), along came the young man from Australia to make everyone's life that little bit harder.
Antonios had never cashed in a WSOP event before; Hellmuth was setting records with his 108th cash, his 51st final table appearance, and was hoping to push the boundaries that little bit further with his 14th WSOP bracelet.
Antonios had other ideas.
With the WSOP-APAC fields on the short side there has never been a better opportunity for bracelet hunters to get more tan lines; and nobody will be ruing missed opportunities more than Hellmuth. But for a few different turns of some cards Hellmuth could have put some serious daylight between Chan, Brunson & Ivey when you consider his heads-up defeat to Ted Forrest, in the summer, and the fourth place finish in this one. The eventual runner-up, Michael Tran, out flipping Hellmuth 44 v A7 to keep history just as it is…for a little while longer.
Hellmuth wasn't the only recognizable name that made it to the final table. Each year we see a plethora of great performances from November Nine members, and Bruno Politano was hoping that this event would be his.
Recently signed by 888Poker, the Brazilian, was making only his third cash since securing $730,725, but had to settle for a sixth place spot after running QQ into Hellmuth's AK – and not surviving five community cards.
Antonios – who led the Day 1 field only to lose the chip lead to Steven Zhou as they headed to the final table – took 8-hours to capture his first sliver of gold by beating Michael Tran in heads-up action.
WSOP Event #7 Results
1st. Alex Antonios – AU$128,784
2nd. Michael Tran – AU$79,646
3rd. Steven Zhou – AU$55,365
4th. Phil Hellmuth – AU$38,909
5th. Yu Kurita – AU$27,624
6th. Bruno Politano – AU$19,809
Other notables that cashed were Ami Barer (11th), Ash Mason (13th), Jesse Sylvia (22nd), Tony Hachem (26th) and Dylan Wilkerson (26th).
Doyle Brunson Gets Graphic
One of those men that Hellmuth was trying to put some more distance between was the legendary Doyle Brunson. The 10-time WSOP bracelet winner, was never going to be present in Australia, but recent pictures on his Twitter feed showed exactly why he would have never made it onto the plane.
The 81-year old went under the surgeon's knife to have a blockage removed from his gallbladder, and woke up to find the whole thing had been removed.
Can you imagine what that would look like?
Well imagine no more.
Surgeon took out 8 marble size stone, repaired a hernia, rerouted bile flow and removed gall bladder pic.twitter.com/MR5KHBIrYp

— Doyle Brunson (@TexDolly) October 10, 2014
Brunson's daughter Pamela posted a tongue in cheek note on her Facebook wall that whilst she would like to say her father was doing well after surgery, he told her to say that he, 'is in a lot of pain and wants us all to acknowledge it and throw him a pity party.'
Comments