10-time World Series of Poker (WSOP) bracelet winner, Doyle Brunson, puts an end to speculation that he may be retiring from the game after sending a tweet withdrawing from WSOP tournament action this summer.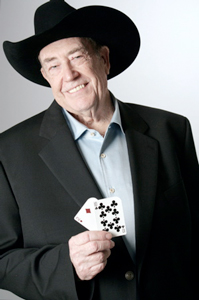 The Grandfather of Poker (sorry Doyle) has decided to put pen to paper after his recent tweet caused his phone to ring off the hook.
"I'm afraid I am finally gonna give in to Father Time and pass on tournament play at the WSOP this year #toomanyhours"
Within no time whatsoever that single tweet became the hottest news in the poker world proving how loved and adored the legend is. It seems people may have been playing Chinese Whispers instead of Chinese Poker because Brunson and his family were beset by questions surrounding his impending retirement from the game, causing the great man to set the record straight in his personal blog.
"I'm not about to quit playing poker! I'll play until I can't sit at the table." Brunson wrote. "I just never have really been into the bracelet race and prefer cash games over the tournaments."
With the fields sizes so big these days, tournaments are marathons that can last 12-hours per day, six days per week. That level of concentration is difficult for a fit and healthy twentysomething.
"Understand, my strength over the years was my endurance and the ability too play long hours without losing concentration. We regularly played 36-48 hours in the cash games so the long hours when needed in the tournaments didn't me at all."
Is the pace of the game starting to become too much for the Octogenarian?
"What prompted me to say what I did in my tweet was the fact that I had just finished a 10 hour long cash game and had made three glaring mistakes in the last 30 minutes that cost me thousands of dollars. When you play at the highest levels and against top talent, you can't make stupid mistakes and survive. I always review my plays in my head before going to sleep. The only answer I could come up with was that I was mentally tired and had played too long. So I figured that it would be much better for me to play in the cash games instead of trying to sit through a bunch of tournaments."
It was also good to see Brunson mention that he has been watching the older pros and taking note of how some of them have gone broke as they started to lose their edge in skill, something that isn't going to happen to Brunson anytime soon, hence the reason he has chosen to skip the WSOP tournaments to focus on what he loves best – the juicy cash game action.