90 Digital CEO Nick Garner gives us an overview on Looking at Links Objectively in this edition of CalvinAyre.com's SEO Tip of the Week.
We hear a lot from Google that makes us think old school links are all dead but is that really the case?
You have heard directories are dead?! And article submission sites are yesterdays tactic? Well these sites live on and keep giving great page rank.
My assumptions are based on a simple idea. If Google ranks a site, the site must be okay in Google's eyes. Of course, there are exceptions i..e news papers selling links, where its important to keep ranking the sites, but not give out page rank for those advertorial links placed across the site.
The big "light-bulb" moment happened when I got a tool we now share called 90 SEO DataGrabber to ipng large lists of sites using SEMRUSH. I have done this to help filter out junk sites when doing disavow files.
Anyhow one thing that came up again and again were directory sites, article submission sites and resources pages that have a combination of really good page metrics and domain rankings stats.
Here is a small sample of sites which have great metrics and are directories…
So you understand the metrics:
Domain Citation and Trust flow metrics are indicative of the number of links and their respective authority. Here is a full explanation.

SEMRUSH KW's are the number of keywords found on a given database More on the metrics here

And of course, we have the title tag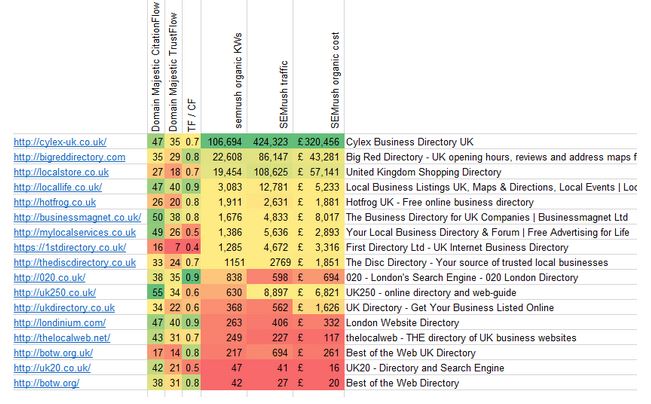 When I link prospect, I look at the strongest pages report from Majestic  to get an idea of what the page metrics are and of course I'll look a the most relevant category to my area and see if those page metrics are good. The main prerequisite is that the site ranks in the 1st place!
To recap:
Things I found really interesting:
Google still ranks some directories really well. But you have to check rankings.
Resources Pages also do well
And it proves (to me)  that old school links still work!