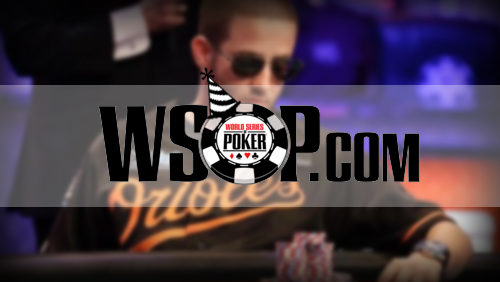 WSOP.com, the leading online poker room in Nevada, have signed Greg Merson as an ambassador for the site, one year after opening their cyber doors for the first time.
Happy birthday, WSOP.com.
On Friday 19th of September, the largest online poker room in Nevada will be one year old and they are celebrating by breaking tradition and signing an ambassador to help promote the brand.
The 2012 World Series of Poker (WSOP) Player of the Year (POY), and Main Event champion, Greg Merson, has signed on the dotted line to be a brand ambassador for the Caesars Interactive owned outfit, and I for one think that it's a fabulous appointment.
The last time Merson was wearing a patch it belonged to IveyPoker. He was a charter member of Team Ivey when the site launched, but parted ways during the WSOP. It's no secret that Merson spends a lot of time playing on WSOP.com, and rumors of a more permanent arrangement have been circulating for quite some time.
WSOP.com were the second online poker room to enter the Nevada market, after Ultimate Poker got out of the gate first; but it only took them six weeks to become the market leader. Real Gaming have also since joined the fold, but WSOP.com have never loosened their grip, and for a short time during this summers WSOP even outperformed their New Jersey cousins.
They have registered over 100,000 accounts, dealt over 15 million cash game hands, handled $363m in cash game wagers, and run 14,564 tournaments.
"It has been a year full of excitement, with plenty of lessons learned," said WSOP.com Head of Online Poker Bill Rini. "Most importantly for the game's long-term health, the technology and the regulations have worked as intended. We have established a solid foundation for this recently-regulated digital form of entertainment in the United States, and remain fully-committed and bullish on the long-term prospects of the business."
The addition of Merson's mug to the online poker room is not the only change you will see on their anniversary.
There will be changes to the geolocation technology allowing players to verify their location using wi-fi instead of a mobile device, and the main cage at the Rio is now handling in-person deposits and withdrawals.
There are also significant strides being made to get WSOP.com on mobile/tablet, with a roll out planned for later this year, and discussions continue with major credit card issuers and banks to expand payment-processing options.
We will bring you more in depth news on the Merson signing in the coming days.