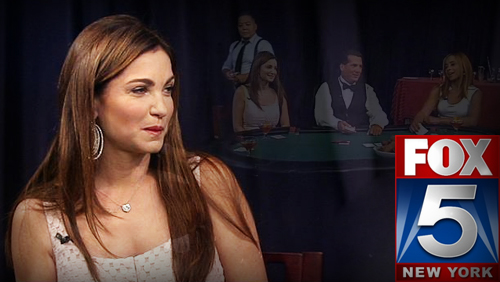 Images from:
myfoxny.com
Beth Shak takes a sabbatical from promoting her shoe collection to help promote poker after starring on a short Fox 5 news segment.
How much does a research assistant get paid these days?
Just a week after Bloomberg's Trish Regan suggested to the world that Vanessa Selbst used to run her own online poker company, Fox 5 Entertainment Reporter, Simone Boyce, calls Beth Shak one of the 'top poker players in the world.'
Not that poker should be complaining. Shak's six-minute segment that aired on the myfoxny.com website, is another great form of advertising for the game in general.
The article claims that Shak 'made millions' through poker, and one must assume they are including her $3.25m divorce settlement from former beau Dan Shak, in that total, as her Hendon Mob stats show a smidgen under $500,000 in winnings.
In 2012, Shak was runner-up to Shankar Pillai, in a $3,000 World Series of Poker (WSOP) No-Limit Hold'em (NLHE) event that saw Phil Hellmuth cashing in sixth place.
Shak took $328,683 from that tournament, and you have to believe she invested most of that money into her expensive shoe collection. Shak owns over 1,200 pairs of shoes – including over 700 by the designer Christian Louboutin – and it's estimated that the collection is worth over $1m.
It's widely reported that Shak hid her shoe collection from her former husband in a secret room in their former home. Dan Shak tried to sue his ex wife for 30% of the shoes worth, but it eventually petered out. The pair split in 2009.
During the video Shak tells the table that she is holding her favorite hand and turns over the sixty-nine.
'So that's how you win your money. She deflects everyone's attention by getting them to think about other things," says one of the other players at the table.
Shak has also hit the front cover of August's edition of Social Life where she once again talks about her impressive shoe collection. She is also on the board of directors for the Wish Upon a Hero charitable foundation.
Poker Hitting the Mainstream
It's been a great few weeks for poker and the mainstream media.
Vanessa Selbst appeared on Bloomberg TV to talk about the state of gambling in Atlantic City; the BIG ONE for ONE DROP caused quite a stir with the AA v AA hand going viral, and Daniel Colman's unhappiness following suit, and the slender figure of the Real Housewives of Miami star, Joanna Krupa, was plastered over the headlines after appearing in the recent Charity Series of Poker event at the Seminole Hard Rock Poker Open.
Comments