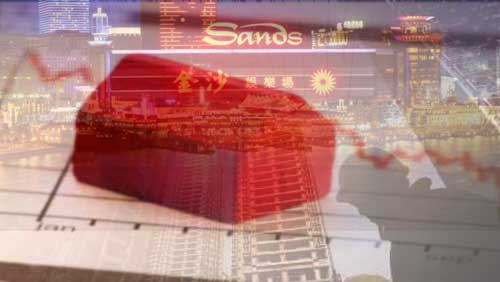 The signs are converging. The indicators are forming one big picture, and the picture is not pretty. Last month (June) it was the sudden and unexpected Chinese housing decline during the traditional hot season as reported by Market Watch. That decline has since accelerated. The Wall Street Journal reports that home prices in China slid another .47 percent in June, compared with a .15 percent fall in May. Real estate investment advisors are now advising their clients to hold off buying a house, which will of course further exacerbate the housing decline already in place. Real estate sales volume is down 9.2 percent year over year, and this is still the "hot season".
It always starts with housing, not by coincidence, but due to the nature and setup of the Central Bank money machine. Money is printed to buy bonds. Bonds are transferred from the government to the Central Bank, in this case the People's Bank of China. Money is transferred from the PBOC to the government, and bonds are the first in line to be stimulated. The government then puts the new money in banks. The banks are the second in line to be stimulated, doubly so because they hold bonds as well. Then the banks take the money, buy stocks and loan out mortgages, making stocks and real estate the third (and fourth) in line to be stimulated. Then come smaller business loans down the structure of production, and finally the CPI.
By the time the decline reaches back up to the real estate market, you know the banks, big business, and the stock market are next in line. This is what we are only starting to see now in Macau.
While gambling stocks have been haunted by scandals such as the land deal of Wynn Macau, now under official investigation, gambling profits have managed to stay afloat until recently, when they dropped for the first time in five years. The statistics released by the Gambling Inspection and Coordination Bureau of Macau indicate the gambling profit in June was MOP$25.7 billion (US$3.2 billion), 3.7% lower than the same season in 2013 and 15.9% lower than May 2014.
Secondary indicators crop up in mild political unrest and mild government crackdowns as frustration builds. In terms of political unrest, the average Joe, along with the average Macanese Jin, are generally not very political. Excluding those weird political activists that are always waving signs over some minor issue or another, your average everyday human being is understandably apathetic about government as long as government doesn't bother him too much. But if government starts noticeably encroaching on economic freedoms, on the ability to freely trade and exchange with others, a person will start expressing interest in politics. That interest will grow more extreme, and negative, as economic freedom shrinks.
In May, 20,000 people showed up on the streets of Macau (population 550,000) to march against generous retirement packages for government officials. On August 24th, a referendum will be conducted in Macau over the right for the city to choose its own Chief Executive(AKA Premier or President) instead of the candidate being appointed by Beijing. The referendum will be legally meaningless because Beijing does not recognize it, but any political protest is a sign that, economically, things are not optimal. Otherwise, nobody would care who the Chief Executive was, as long as he leaves everyone pretty much alone.
These protests are mild, but they are the beginning. Mild crackdowns are already happening as well. Starting this month, mainland transitors through Macau will only be allowed to stay for 5 days instead of 7. The government is also raising the money laundering flag mixed in with the word "terrorist" in order to curb cash flow to and from the peninsula. Money laundering is of course entirely unnecessary in a free market, and is only used when two people want to mutually exchange without the government looking. To that end, the use of UnionPay terminals in Macau casinos and pawnshops has been curbed so that gamblers cannot exceed the arbitrary capital controls imposed by Beijing.
Looking at a 5 year chart of Wynn and Sands Macau, momentum is clearly drying up and it looks like the top has been in since late March.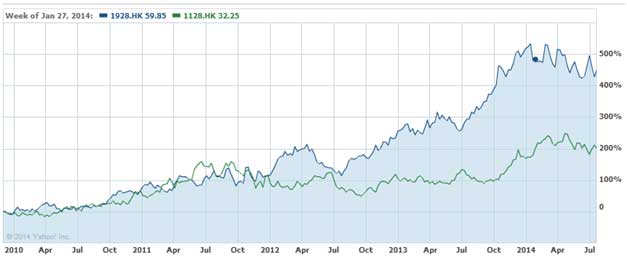 One more important confirmation signal would be volume at Sands Macau drying up. Much like using MGM as an indicator in the US, Sands Macau volume can be used to attain an overall picture of the economy there. The next LVS 10-Q, then, will be crucial. If gambling volume growth reverses, stops, or even slows substantially, we'll know that the real estate slowdown has already infected the casinos.
As of the last 10-Q, chip volume increases (decreases) year over year were as follows (page 39):
Venetian: 31.9%
Sands Cotai Central: 13.8%
Four Seasons: (3.0%)
Sands Macau: (15.9%)
As for Wynn, Macau volume was still up as of last 10-Q (page 29). If that reverses, stops, or slows, brace yourselves. Within a year or two there will be a tremendous buying opportunity in Macau. For now, disclosure, I own 2016 puts on FXI.