John Swallow and Mark Shurtleff, the former Attorney General's for Utah, have been arrested on 23-charges of corruption, including ties with payment processors that were responsible for the onset of Black Friday.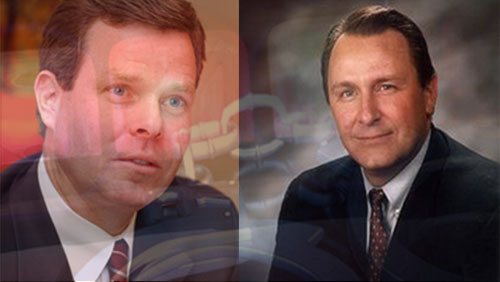 'The point is, ladies and gentlemen, that greed, for a lack of a better word, is good. Greed is right, greed works. Greed clarifies, cuts through, and  captures the essence of the evolutionary spirit. Greed, in all of its forms; greed for life, for money, for love, knowledge has marked the upward surge of mankind." – Gordon Gekko, Wall Street.
Perhaps Oliver Stone should have also added, "and greed will one day drop you into a vat of shit that you will never be able to climb out of?"
I get the feeling that's exactly how the former Utah Attorney General's John Swallow, and Mark Shurtleff, are feeling after being arrested, this week, on 23-charges of corruption, including ties with various payment processors that were involved in our very own Black Friday.
Greed is…a lengthy prison sentence?
The roll call offences include unlawful activity, receiving and soliciting bribes by public officials, accepting gifts or loans, accepting employment that would impair judgment, witness tampering, tampering with evidence and obstruction of justice.
The reason that this news appears on a gambling website is because the pair in question had an alleged relationship with one Jeremy Johnson, the chief of the Utah based iWorks Inc., a company that the Federal Trade Commission (FTC) once categorized as a 'bogus government-grant and money-making scheme,' and became the foundation of the SunFirstBank payment processing firm that was heavily involved in Black Friday.
It's believed Johnson earned around $275m through the scheme, and the iWorks shenanigans came to light after Swallow resigned amidst controversy that he had allegedly engineered a $600,000 bribe to U.S Senator, Harry Reid, in order for him to lend a blind eye to the FTC's iWorks investigation.
Shurtleff emerged from jail, on crutches and wearing a caste on his leg, and during a news conference maintained his innocence when he said: "I admit that I am not perfect and never professed to be. I have made mistakes and errors in judgment. But I have never intentionally committed any breaches of professional ethics, misused or abused my office of public trust, and certainly never violated the criminal laws of this state or our nation."
Swallow followed suit.
"I absolutely maintain my innocence, and this is just a process. Thank goodness we have a Constitution. We are presumed innocent until we're proven guilty. And I look forward to my day in court to confront my accusers and to share my side of the story for really the first time."
We will bring you further news as and when it breaks.
Comments