WSOP Main Event Day 6 recap sees a whole host of star names still in the hunt for the $10 million first prize, led by the Sexy Swede Martin Jacobson.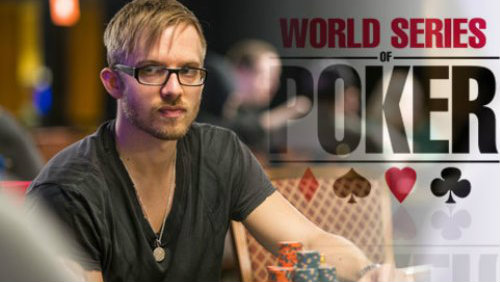 What's so great about the World Series of Poker (WSOP) Main Event?
The money?
Yeah…that's not bad.
The prestige?
Yeah…that's not too bad either.
What then?
It's the one event that can turn the man who empties your trash into a multi-millionaire. It's the tournament where Rocky wins. Wimbledon FC wins. Darvin Moon nearly wins.
But this year, it's different.
Clubber Lang is winning, Liverpool FC are winning and Martin Jacobson is cleaning house.
It's the year of the professional and it arrives right on point in the skill versus luck debate that still rages within the hallowed halls of legislation in the land of the red, white and blue.
The chip leader, at the end of Day 6, and by quite some margin, is the Swedish supreme, Martin Jacobson, who is widely recognized as one of the very best poker players on the planet never to win a major title. Perhaps, he has been saving himself for a tournament win worth $10 million?
Jacobson was the big chip leader at the end of Day 1A and he is the big chip leader at the end of Day 6. Proof personified that if you give a quality player a ton of chips, and a slow and steady structure, then his stack will grow like a beanstalk in the back garden of a kid called Jack.
Jacobson has 22,335,000 chips, and that's 5.5 million more than Luis Velador, who lies in second place. Talking to PokerNews report Remko Rinkema, during the Day 6 dinner break, Jacobson admitted to feeling the pressure but said that he tries hard to block that from his mind so he can concentrate on his game.
Jacobson is not the only recognizable name left in the final 27, in fact there are tons of them: Dan Smith, Craig McCorkell, Andrey Zaichenko, Bryan Devonshire, Mark Newhouse, Leif Force, Yorane Kerignard and Brian Roberts just a sprinkling of stars all dying to make that final table of nine.
Players who were not so fortunate on Day 6 include the last female player Maria Ho (77th), Kyle Bowker (71st), Chanracy Khun (69th), Tony Ruberto (68th), Brian Hastings (64th), Stuart Rutter (59th), Vitaly Lunkin (57th), Isaac Baron (52nd), Ryan Fair (48th), Vladimir Bozinovic (46th), Matt Waxman (45th), David Tuthill (43rd) and Garrett Greer (32nd).
End of Day 6 Chip Counts
1st. Martin Jacobson – 22,335,000
2nd. Luis Velador – 16,600,000
3rd. Dan Sindelar – 16,345,000
4th. Andoni Larrabe – 15,280,000
5th. William Pappaconstantinou – 14,640,000
6th. Bruno Politano – 11,625,000
7th. Dan Smith – 10,335,000
8th. Craig McCorkell – 8,765,000
9th. Felix Stephenson – 7,740,000
10th. Andrey Zaichenko – 7,335,000
11th. Mark Newhouse – 6,820,000
12th. Thomas Sarra Jr – 6,510,000
13th. William Tonking – 5,870,000
14th. Bryan Devonshire – 5,765,000
15th Jorryt van Hoof – 5,395,000
16th. Eddy Sabat – 4,670,000
17th. Kyle Keranen – 4,465,000
18th. Leif Force – 4,035,000
19th. Christopher Greaves – 3,935,000
20th. Maximillian Senft – 3,920,000
21st. Oscar Kemps – 3,910,000
22nd. Iaron Lightbourne – 3,875,000
23rd. Sean Dempsey – 3,145,000
24th. Yorane Kerignard – 2,885,000
25th. Scott Mahin – 1,460,000
26th. Brian Roberts – 1,365,000
27th. Scott Palmer – 760,000