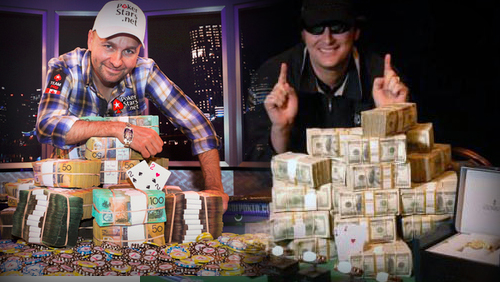 [polldaddy poll=8163003]
Phil Hellmuth and Daniel Negreanu are two of the best and successful poker players in the world in terms of earnings and bracelet winnings. They are also the top favorites to win this year's WSOP Main Event, which is why we decide to ask our readers, "Who has had a better poker career?" Is it Phil Hellmuth, the all-time World Series of Poker bracelet leader or Daniel Negreanu, one of the highest earning live tournament players of all time?
Leading the vote with 71 percent is Daniel Negreanu and 29 percent voted for Phil Hellmuth.
Negreanu started playing the game at an early age. In 1998 at just 23, he became the youngest player at the time to win a World Series bracelet, and earned the nickname Kid Poker, after taking down the $2,000 Pot Limit Hold'em event. His hunch to ditch college, move to Las Vegas and to become a full-time poker player was right, as he took two first place finishes in the 1997 World Poker Finals.
At the 2004 World Series of Poker, he was named as the Toyota Player of the Year after winning a bracelet and cashing in five events. Negreanu was the runner up at the 2009 World Series of Poker Europe, finishing in second to Barry Shulman and made him the all-time tournament money earner with over $12 million in lifetime earnings. Today, his earning in WSOP 2014 is already at $15,396,890 and ranked first on overall earnings of more than $30 million.
Phil Hellmuth, on the other hand, is known as the Poker Brat because of his table demeanor and tendency to needle opponents. Hellmuth is one of the most successful players ever and the poker world regards him in the same manner that basketball sees Michael Jordan and golf looks at Tiger Woods.
His phenomenal WSOP run over the past 19 years all started in 1988, when he placed fifth in a Seven-Card Stud High-Low tournament and won the main event the following year. He is also one of only three players in history to win three gold bracelets within a single year and three consecutive WSOP wins in three consecutive days (April 26-28, 1993), which is unlikely and perhaps impossible to break. Today, Hellmuth is the all-time World Series of Poker bracelet leader with 13.
For this week's poll, we ask our readers: "Have you subscribed to our mailing list?" Check back next week to see the result.
Comments