Lee Davy sits down with the former World Series of Poker (WSOP) Main Event champion, Greg Merson, to ascertain his opinion on the Dan Colman debate.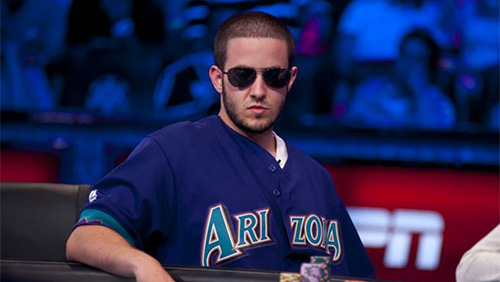 If there is anybody who knows what it feels like to be in Dan Colman's shoes it's Greg Merson.
In 2012, Merson defeated 6,597 players to win the most prestigious tournament in the world and at the same time he became the most sought after poker player on the planet.
The man was photographed so much he got a sun tan but Merson didn't revel in the spotlight; he was a reluctant hero and so if anybody knows what it's like to win one of the world's biggest tournaments and then have to deal with the media frenzy that follows, it's Merson.
So how has the 2014 WSOP Main Event been treating Merson?
"I was almost out actually. I got to 10.5K and I now have 25.4K. At the first break I had 24K and I was kind of upset at a hand that I played, but to make it to another break and have the same stack, I am elated. It's crazy how the emotional swings are. I feel so happy right now."
Where does this tournament stand in importance for Merson?
"It's definitely the mecca. There is nothing like it. So much for first for a buy-in where most pros are going to have most of their action with some pieces sold out. It's not like these $100k events where people have 10 or 20 percent of themselves—win $2 million but only take $200K. This is the sickest tournament of the year, and so much fun."
Now onto Dan Colman. What's Merson's opinion on the whole affair?
"I think the only thing he will regret was he rushed what was almost certain to be the most shining moment of his career when he should have taken more time for it to soak in. That's the only thing he will regret though. I believe in what he is standing for. My generation gets put in front of a camera and gets exposed to the world to help brand these other companies and you don't benefit from it at all, outside of quote-on-quote helping poker.
"I was very much like him when I won, then I started realizing it was important for me to carry poker as much as I can and do my due diligence. Part of what made poker so attractive is the personalities on TV and if nobody is going to be social on TV, or during interviews, or interacting with other players or fans, then where is the attraction to want to play poker?
"It is a fine line. I can see how Daniel Negreanu preaches the virtues of being an ambassador and I can also see Colman's position where I was in his exact shoes. I was rooting for him to win. He deserves the national spotlight for being truly great player."
Is he that good?
"I know how many hours he has put in. I remember reading some tweets about him not running that well in live tournaments, but there is so much variance in live tournaments, and to see someone up there in the top 5–10 NLHE players in the world – get something done that he did – I am always a fan of that. I would have also loved it if Negreanu would have won because he is so good for poker."
What do you think of the fact that some people are now branding him as a hypocrite?
"It's tough…his reasoning is tough to really…fully back. I mean we are gambling for a living, so we are inevitably ruining someone's lives that have gambling addictions. But the way I look at it, you can't feel too bad about that. There are so many industries taking advantage of peoples weaknesses or addictions: the alcohol industry, the tobacco industry, the fast food industry and so on.
"I think he also understands that he is a white American with little marketability so why should he have to do all of these interviews when he has nothing to gain from it? I think that's the way he is thinking and I don't necessary blame him for that. But I do think, in 5–10 years time, he will regret not truly soaking in such an amazing accomplishment."