Lee Davy sits down with Lynn Gilmartin to talk about her new role with the World Poker Tour (WPT), playing poker, being a health coach and more.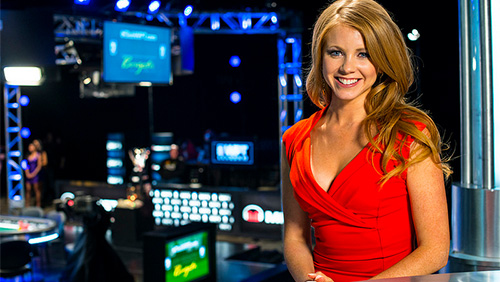 It's been a stratospheric rise to the top for Lynn Gilmartin. One moment she is working in a corporate job in a Melbourne casino and the next thing you know she is fronting the WPTAlpha8, landing on the front cover of BLUFF magazine and now playing World Series of Poker (WSOP) events.
Everybody understands the role that luck plays in the game of poker but there has been nothing lucky about Gilmartin's rise to the summit. Hard working, beautiful and always glowing. Gilmartin is a role model to anyone who fancies a career in the poker industry.
I caught up with her during a break in the LITTLE ONE for ONE DROP and this is what she had to say.
So today you are a player?
"I love it. It's very different obviously. I'm probably not the best for handling the roller coaster, for what it is, but it's fun."
How would she rate her understanding of the game?
"I am doing very well and can handle my own. I wouldn't call myself a pro but I've been practicing. I've been watching this game, very closely, for many years now. I have been watching the best players in the world, so you would think I would have a clue."
Is her boyfriend, Angel Guillen, giving her a few tips?
"He does. I played a few events with him. I recently played the LAPT Main Event and that was the first Main Event for me, and he was incredibly supportive. It's good to have someone to talk hands with, so that's nice."
The last year has been off the charts for Gilmartin. How does she feel about the success she has had?
"Amazing. Absolute dream come true. I am loving every single moment. I love everyone I work with, the WPT are amazing, the show is amazing, the players are amazing, we have so much fun and I am very grateful to be in love with what I do, and to have so much fun at the same time."
Gilmartin left PokerNews to take up her new role and the new girls have been getting some stick on the 2+2 forum. What advice would Gilmartin give to girls who want to move into this side of the business, and what were the challenges she faced when starting out?
"Confidence in yourself is a really big thing with any job but this one in particular. That's been the challenge for me. Also facing fears. Before I got into poker I had an amazing corporate career at a casino in Melbourne. I had just been promoted and I had to quit, move to Vegas at 24 years old. I had never been to the US before, didn't know much about poker, and bluffed my way through it. It was petrifying, but I am so glad that I did it.
"Speaking from personal experience, I just had to dive into the game and learn it. It's a whole new language, a new culture; you need to understand the players, and the lifestyle, so you can relate to them. My first gig was the WSOP and it's the best way to learn. It may be tough to start in the deep end but you will come out swimming eventually."
Gilmartin is a certified Health Coach after taking the Integrative Nutrition course. Does she have any plans to expand on that in the future?
"I actually took that course just for myself. I started to make some changes for my body and my personal growth. I didn't know I would come out of it as a Health Coach. I am not doing it professionally, but a lot of my friends and family come to me for advice, and I love sharing these things with them."
If she had not joined the WPT would she have pursed the health coaching professionally?
"I don't think I ever would have taken it on professionally. I think I would have kept going as I was going. I like to ride the wave and I don't plan too far ahead. I just like to take opportunities as they come, I don't set solid goals all of the time."