Lee Davy sits down with the two-time World Series of Poker (WSOP) winner, Athanasios Polychronopoulos, to talk about how he keeps himself so chilled out, an update on his series thus far, and much more.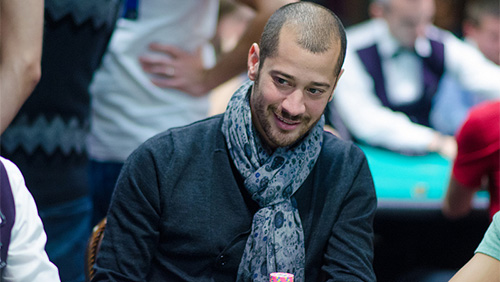 One of the themes of this year's World Series of Poker (WSOP) is the sheer number of players, who I have run into, who are working on their mental game by ensuring they are taking better care of their mind and body.
For some people this is a very difficult change, for others it comes a little easier, and then there are a few people who just seem to have this shit in their genes.
The two-time WSOP bracelet winner, Athanasios Polychronopoulos, is one of these people.
The man is so laid back, if I touched him with my big toe he would probably fall over.
The last time I spent time with him was during Day Two of the Millionaire Maker. When I left him, he was exceptionally short and somehow, he managed to turn things around and end up going very deep. How does he do it?
"Sometimes you just run good and don't bust. I remember one guy limped for 800; I had 3,600 and went all-in and he folded. That was basically a double up; I then doubled up again, and that was enough, I went on from there. You have to value your tournament life, I guess. That and good karma."
And how has his series been since then?
"I have only had a few cashes. I've built up a bunch of stacks but nothing really happened. I guess I am waiting until the end."
How does Polychronopoulos measure success at the WSOP?
"My main goal is to just play my best, the whole time, which isn't necessarily easy. It's quite difficult really. There was a stretch of five days where I made several mistakes but other than that, I have been playing some great poker."
I mentioned my interview with LuckyChewy who said last year that he played every event and suffered from burn out; this year he has chilled out, late regged a bunch of events, cut back on his schedule and done well. Does Polychronopoulos concur?
"When it comes to late regging or showing up on time, I don't think that makes much of a difference but when it comes to over doing it, then that will burn you out. You have to do what you are comfortable doing; don't force your body to do something it is not comfortable with."
Everybody learns something new at the WSOP. What has Polychronopoulos learned from this one?
"Sometimes I just come here and wing it. Maybe having a plan is better? But winging it means you are doing things on your own schedule and that's important. I have learned some stuff at the table this year, which is fun. I feel like I am still getting better with people. It was always a good part of my game, but now I am really confident."
How are you so chilled out?
"This summer, in particular, I brought my golf clubs. I find that it's good for stress relief. I am not that good but I'm getting better. I have been pretty healthy, playing golf and just relaxing. I was like this before. I have had a good life since the beginning so everything has gone my way…I don't know why? I grew up on a beach and working in my father's restaurant so everything has been very peaceful."
Daniel Colman has recently hit the headlines after refusing to be interviewed after his ONE DROP win and has had some critical things to say about the game in general. What is Polychronopoulos's opinion on poker?
"It's a fun game and I love to play. Poker at the moment…they run a lot of charity events so it can be good for the community. People are always going to want to gamble anyway, so they might as well do it on a platform that's fun, social and a has a lot of other positive things going for it. If Daniel Colman doesn't want to do interviews then I respect his decision."
But did he miss an opportunity to air his opinions during an interview where he has a bigger audience?
"Maybe he wanted to make a statement but didn't know exactly what to say? Who knows what he wants? If he wants to say something he can say it whenever he wants. I don't think it's good or bad that he missed the interview. I have a neutral opinion."