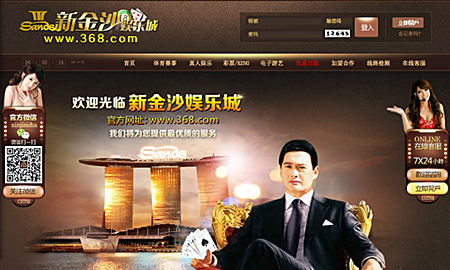 Casino operator Las Vegas Sands is pursuing legal action against Asian-facing online gambling sites for infringing on Sands' trademarks. On Friday, Sands filed suit in federal court in Nevada, accusing the operators behind 35 websites/domains of the unauthorized use of the Sands logo, the Chinese characters that translate to 'golden sands' and images of the company's iconic Marina Bay Sands integrated resort casino in Singapore.
Most of the domains redirect to two websites, 368.com and 22v.com. Sands has been unable to identify the operators behind the sites as the domains were registered via "privacy protection" services offered by registrars like GoDaddy, Enom and Name.com, which keep registrants' names and contact details off the grid. Sands' suit stresses the obvious injury to its reputation inflicted by these websites, given chairman Sheldon Adelson's enthusiastic support of anti-online gambling efforts.
According to documents viewed by TheDomains.com, Sands is suing for trademark infringement, false destination of origin and dilution under the Lanham Act, America's leading federal trademark statute. Sands has also filed claims for common law trademark infringement and common law unfair competition. Sands is seeking temporary, preliminary and permanent injunctive relief plus damages and legal costs.
Sands isn't the first US casino giant to protest an Asian company's use of its trademarks. In 2012, Caesars Entertainment lost a bid to prevent a massage parlor in Thailand from operating under the same name because the parlor had beaten Caesars to the punch in registering the CaesarsEntertainment.com domain.
In other Sands trademark news, Sands China has lost yet another attempt to register a trademark associated with the phrase 'Cotai Strip.' Courts have repeatedly sided with Sands' Macau casino rivals in rejecting Sands' plot to essentially own the Cotai Strip phrase, calling the proposed trademarks "ambiguous, generic and indefinite." In the latest judgment, Macau's Court of Second Instance rejected Sands' attempt to trademark the phrase "Cotai Strip CotaiRewards Club" on the grounds that it was too vague and issuing the trademark "would make it difficult for consumers to identify the product or serves being offered."