Jake Cody is a people magnet.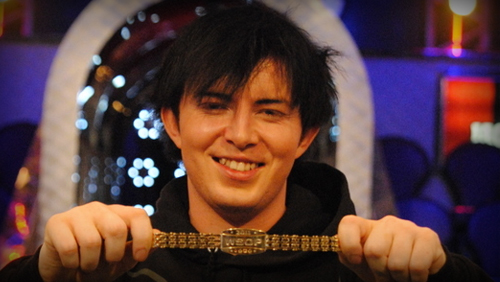 I never see him alone, and today is no different.
He has been railing Rhys Jones onto his third place finish, in the Ante-Up tournament, and is milling around in the Rio hallways with his friends from the UK.
Cody has always been a trendsetter.
He was one of the first young guns to start smashing down live major tournament doors, and the tribe soon followed.
Now he's at it again.
The PokerStars Team Pro has the latest fashion accessory in poker. I'm not talking about a new car. I'm talking about a little baby. Cody has one and now everyone else has started popping them out.
Now having a child is a life changer for anyone. Having a child when you are in your early twenties is even more profound. Now slap a ton of money into a bank account, add a tribe of young headstrong party animals into the mix, and the difficulty factor rises tenfold.
It's safe to say, young Mr. Cody liked a party or two before his responsibilities spewed down the front of his Armani t-shirt.
"Probably a fair thing to say to put it mildly." Said Cody.
So how has he found the responsibility?
"It's gone much better than I expected. Especially having a child amongst my friends which is quite rarity."
Everyone is having them now Jakey.
"I guess so, but it's still unusual amongst young poker players, so it's a little strange trying to balance both sides of my life right now. But my girlfriend has been amazing and we have a friend of the family out here to help us also."
Cody brought his girlfriend and child to Vegas. How important was that decision?
"I wouldn't want to leave them for seven-weeks, and I wanted to come and play. It will also keep me out of trouble, a bit, and I think it will save me some money even though it cost me money to bring them over."
The sound of a baby crying is enough to have you climbing the walls. How does a professional poker player fit that into the schedule?
"Alex has been great. Every time I have a big tournament, or a Day 2, she takes over for the night and then I help out on the other nights."
And has it changed his outlook on life, and on his poker career?
"It changes your outlook on what you would do if you won the next big tournament, and how you would better manage your bankroll. It definitely makes you more careful and conscious. It now seems silly to spend a lot of money on table service in a club right now."
College funds, first car, first mortgage deposit and wedding costs – kids cost a fortune!
"I guess I need to win a bracelet to cover the next few years!"
What has been the most difficult transition during this period?
"I guess there are so many changes going on and one of the toughest things is Alex is based in America, and I am based in the UK. We want to buy baby furniture but we don't know where we are going to end up yet. Short term we are looking at London, long term we have no idea. As long as I am playing as much poker as I am now we have to be in Europe."
And if online poker booms in the US of A, how would living in the Stars and Stripes sound?
"It would open up a huge amount of doors for me, but right now America has a huge X on it, although I am sure Alex would like to live there some time in the future."