WSOP Day 29 recap sees Jordan Morgan overcome Evan McNiff in an epic heads-up battle, Will Givens continue his great run of form with victory in the $1k, Abe Mosseri has the chip lead in the $50k Poker Players Championship (PPC) and much more.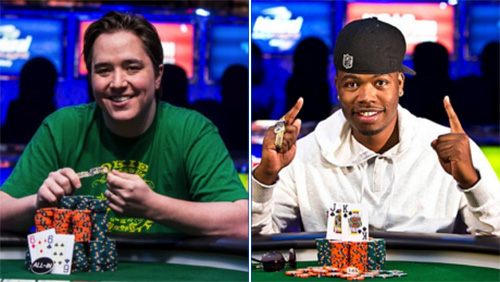 Two bracelets to catch up on today and the first has been slung onto the wrist of a young man from Oklahoma after an epic heads-up battle in the heart of the Thunderdome.
Jordan Morgan overcame Evan McNiff after seven hours of heads-up action saw the chip lead sway one way and then the other. Morgan now adds a gold bracelet to his circuit ring, after his pocket sixes dodged the AK of McNiff to hand him the $478,102 first prize.
"It was a grind for sure, " Morgan told PokerNews before continuing, "It's validation. I have been coming here for 10-years so it's great to finally get the bracelet I have always wanted."
Final Table Standings
1st. Jordan Morgan – $478,102
2nd. Evan McNiff – $295,727
3rd. Jason Johnson – $204,464
4th. Ray Foley – $147,463
5th. Bryan Dillon – $107,800
6th. Robert Chorlian – $79,842
7th. Joseph Larussi – $59,920
8th. Ryan Spittles – $45,554
9th. Michael Anselm – $35,063
Will Givens wins Event #45: $1,000 NLHE
Another spot on premonition from the mind of Davy.
Yesterday I told you to keep your beady eye on the progress of Will Givens and the man from Colorado didn't disappoint.
Givens defeated Angela Prada-Moed in a short and shrift heads-up encounter to take his first major title of his career. His $306,634 will also be put to good use, as he will no doubt continue the little heater that is blazing a trail all around the WSOP.
"It's been unreal. I learned a lot in the last $1k and I said you know what if I get back I am going to tweet what I did wrong. For each level I had a plan and stuck with it. People who know me know I have been working hard, so it's good to see that hard work come off. Once I got deep and had that mindset right I am in the zone. I am locked in. "
His victory takes him to $735,508 in total live tournament earnings after finishing fourth in event #33: $1,000 NLHE, 19th in Event #29: $5,000 NLHE Six-Handed and 55th in Event #29: $2,500 NLHE.
Final Table Standings
1st. Will Givens – $306,634
2nd. Angela Prada-Moed – $189,632
3rd. Paul Sokoloff – $131,110
4th. David Hass – $94,559
5th. Patrick Curzio – $69,125
6th. Duy Ho – $51,198
7th. Dmitrii Shchepkin – $38,423
8th. Ivan Saul – $29,211
9th. Loren Klein – $22,484
Abe Mosseri Leads the Final 22 in the $50k PPC
WSOP bracelet winner Abe Mosseri has the chip lead with just 22-players remaining in the $50,000 PPC.
Mosseri is on course to cash in this event for the second time after finishing 11th back in 2010. He takes over a million chips into the fourth day of action and there are four more people who join him over that threshold.
Brandon Shack-Harris has over a million, and he is making a serious run at the WSOP Player of the Year award. He has already recorded a first, second and third, in different forms of poker, and he has to be one of the favorites to take down the title.
Matt Glantz, Robert Mizrachi and Frank Kassela are the other players above a million chips.
Jeremy Joseph Leads the $1,500 Ante-Only NLHE Final Table
Event #47 has reached it's final table and what a final table it is.
Jeremy Joseph has the chip lead with 689,000 chips, but the WSOP bracelet winner Simeon Naydenov is not far behind with 629,000.
Jonas Lauck is no stranger to the odd final table or two, Ryan D'Angelo is in the form of his life; British pro Rhys Jones continues a fine run of form that saw him take down the GUKPT title in Manchester recently, and Adam 'Roothlus' Levy has also made it and will no doubt be a force to be reckoned with.
Final Table Chip Counts
1st. Jeremy Joseph – 689,000
2nd. Simeon Naydenov – 629,000
3rd. Jonas Lauck – 485,000
4th. Jesse McEuen – 384,000
5th. Ryan D'Angelo – 294,000
6th. Adam Levy – 269,000
7th. Rhys Jones – $187,000
8th. Herbert Yarbrough – 157,000
9th. Arthur Pro – 122,000
Cale Maclean Leads Event #48: $1,500 Pot Limit Omaha Hi-Low
991 entrants turned up for this event and at the end of Day 1 Cale Mclean was leading with 130,300 chips.
He was the only player above the 100,000 mark but Jeff Madsen, Bryan Campanello and Tom Schneider have decent chip stacks in that one.