Lee Davy sits down with Brian Rast to talk about his fine form, his plans for the ONE DROP, his love for Game of Thrones and much more.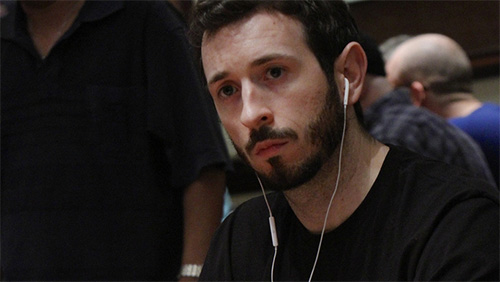 With over $6.3m in live tournament earnings, and two World Series of Poker (WSOP) bracelets in his trophy cabinet, Brian Rast, has to be considered one of the favorites to take the potential $20m first prize at the BIG ONE for ONE DROP this year.
"You can say that about most of the players in the ONE DROP," I hear you say.
That's true, but look at the guys record over the past seven months.
He made the final table of the PartyPoker Premier League finishing in sixth spot for $102,000; he took down the $100,000 WPT Doyle Brunson Five Diamond World Poker Classic High Roller for over a million; he took a further $400,000+ in Bellagio High Roller events, before taking fourth for close to $70,000 in the $10,000 No-Limit 2-7 Draw Lowball event at the Series.
That's what I call form.
But the ONE-DROP is still 5-6 days away. First he has the $50,000 Poker Players Championship to contend with – how is he feeling?
"I feel good. I think that in the big bet games I feel really good, and in the mixed games I feel fine. I'm maybe not the best player in the mixed games, but I think I play all of them decent. If anything I think I am underrated, and I think I can hold my own on most of these tables."
So how does Rast get to grips with these mixed games?
"Outside of the World Series I play the mixed games very sporadically. During the course of the World Series I end up playing a lot of mixed games both at the series and between tournaments in the cash games.
"In May there was a lot of big mixed action at The Bellagio. I played 8-Game plus No-Limit Deuce over a few days in Bobby's Room, and a few other days I played Limit Hold'em, Triple Draw, Pot Limit Omaha (PLO) mixed. This year, more than last year, I felt really warmed up about these games."
Just before you came out to the World Series you posted on social media that you are feeling great about your game. What's been going on in your life to contribute towards that feeling?
"Results wise, I've just had a good last seven months. I was struggling a little bit towards the end of last year. I was at the Premier League and halfway through it I wasn't doing well. Then in the last two heats I won and came second in order to make the finals. I made a huge monster call. One of the biggest calls I have ever made in my life, with ace high for an 8x pot shove, and I was right versus Phil Laak in Heat 5. Ever since then I have cashed in the Bellagio, I won the $100k, I did well in some $25k High Rollers and have been doing well in cash.
"I'm on top of my game and I have been running well. When you are winning your confidence is high. I have not only been running well, and feeling lucky, but I know my game is also good. I have also been playing a lot of poker and when you put all of those things together it's all good."
I notice you are wearing your 3Bet Clothing. Tell us a little bit about that?
"I have been with 3Bet for a couple years now. They make comfortable clothing, have a lot of good colors and look good. This shirt I am wearing says, 'Hard to Beat Luck,' and I designed that. I have designed the slogans for six shirts in total.
"There is the "Glory Goes to Those That Gamble,' t-shirt, which I wore at the ONE DROP, and a couple of other ones like 'One More Time' – if you have already used your One Time at a tournament you need a One More Time right?
So what does Rast get up to away from poker?
"I spend my time with friends and family. I don't have any major hobbies. My wife is from Brazil and we have a kid. I like music and love The Game of Thrones – and I have read all of the books."
Does reading the books take away a lot of the intensity of watching what is a quite magnificent series?
"It changes it. I actually watched the first three seasons and then after last season I couldn't wait a year, so I read all of the books. One of the great thing about the series is the author always keeps you guessing. I know what's going to happen, so the suspense has been taken away, but I enjoy the world and the characters he has made.
"They have changed a few things to adapt it to TV and I like analyzing that. I still really love the show. David and Dan have done an excellent job with the show, it's different from the books, and but it works. George Martin is a genius and the world he has created is amazing."
Is Rast ready for the ONE DROP?
"I would say going into the series the One Drop was the one I was looking forward to. I started selling my pieces two months before the series, so I have been really waiting for it. But right now I'm in the middle of the $50k so I'm not thinking about it, but the One Drop is the tournament and it's only like 5-6 days away. I am ready to go, and have already deposited 3/4 of the money, so I'm nearly done."
How complicated was it to sort out the buy-in and track all the percentages?
"It's a little complicated. If I had decided to sell at face it would have been less complicated, but because I decided to sell at a 5% markup, and it's harder to find backers because of that, it gets more complicated.
"I am going to end up putting a lot of money into this tournament myself. It's so big, and my pieces are going to end up being relatively small, so the money I am charging at markup – it's not like I am keeping it. I am actually putting that in to have a small free roll piece in addition to what I put in, so that's why I ended up doing it. So yes, it's a little bit of work, but I'm not stressed out about it right now because I have been keeping on top of it."