Lee Davy sits down with the two-time World Series of Poker (WSOP) bracelet winner, George Danzer, to talk about his life away from poker, getting the balance right with his girlfriend and much more.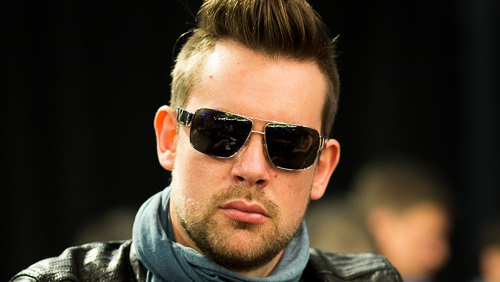 The sun is belted down on the earth.
The tar sticks to the soles of my training shoes, sweat pours from my armpits and the heat burns the back of my neck, and there is George Danzer, sitting on a bench, legs folded, headphones dangling around a neck that is covered with a scarf.
A fucking scarf.
And there is not a drop of sweat on the man.
Coolness personified.
Not only does Danzer own the best goddam haircut in Las Vegas, but he is also the proud owner of two WSOP bracelets won in $10,000 Mixed Game Championships at this year's series.
He is a man on form.
So how does his life create that momentum?
"When we are on the tournament trail I have a lot of friends from Germany who I travel with. We live in the same place and have a good time around the grind. When I can, I bring my girlfriend along, which is difficult because she has a 'real' job, but it's perfect if she can come to Vegas so we can enjoy some activities aside from poker.
"Poker takes a lot of your time out here, so there isn't a lot of time to see the rest of Las Vegas, but we are here to work."
Danzer has been dating his girlfriend for the past four years. How does the woman with the 'real job' handle a relationship with a poker player?
"It's always difficult when you are with someone who has huge swings everyday, especially when you are accustomed to a steady income, but we get along just fine."
Is Danzer a goals oriented person?
"I think I am pretty good right now {laughs}. The bracelet was one of the goals, but I am more of a day-to-day type of guy. I often do random stuff. The other day I wanted to brew beer and did that for a couple of weeks. I also learned how to program, and use HTML and JavaScript, so I could help my girlfriend with her resume."
A selfless act; is Danzer a selfless person?
"I think so. I like to invite people to do stuff, and do stuff for other people, but I also like it when people do things for me. It's give and take."
What inspires Danzer?
"Respect for other people is important. It doesn't matter where you come from, what you do, how much money you have, or what you look like. I think everybody should treat everybody as a unique person, and if they do something you don't like then don't immediately dismiss them. Try to understand why they are doing the things they are, and look at it from another angle instead of just being angry with that person."
Is there anything that Danzer is continually working on?
"I like the things about me that are not perfect. If something happens that I dislike…well…I enjoy the moments that go wrong as well. I like the positive and the negative emotions. If I screw up, big time, I try to enjoy the emotion and move forward from there. I don't like to change too much."